Exclusive
The 'Personal Story' Of A Killer, Handwritten By Joran Van Der Sloot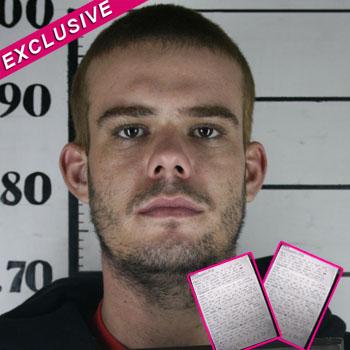 By Debbie Emery - RadarOnline.com Reporter
Currently facing 28 years in prison for the murder of a Peruvian student, Joran van der Sloot relayed details of his troubled background and life before his arrest in a chilling handwritten letter to police, and RadarOnline.com has an exclusive copy of his writings.
Titled 'My Personal Story,' van der Sloot was asked to write the text by forensic psychologist Silvia Rojas Regalado as part of a handwriting examination and it is part of an official police document.
Article continues below advertisement
EXCLUSIVE DOCUMENTS: Read Joran Van Der Sloot's Personal History, In His Own Words
As RadarOnline.com previously reported, van der Sloot confessed to the May 2010 murder of Stephany Flores and was sentenced last Friday for the brutal crime.
Taking into consideration time served, the 24-year-old will be eligible for release in 2038.
Written in childish penmanship on a crumpled piece of white paper, the convicted killer talked about his upbringing in Aruba and his early school life.
"From 8 years old played tennis almost daily even represented Aruba in the Queens games and played soccer," the Dutchman wrote in his second language
"Always had a lot of friends and even girlfriends when I was 14 I had my first serious relationship."
Van der Sloot's love of gambling is well-known and it was his passion for poker that led him to cross paths with Flores at the Atlantic City Casino in Lima, and his tale reveals that he began playing at a young age.
Article continues below advertisement
"Started playing poker at 16," then in the same sentence he matter-of-factly states that he was arrested on suspicion of the disappearance of an Alabama teen in Aruba.
"I was in jail for three months and then released... After that my dream of studying in the U.S. was impossible."
Instead, he traveled to Holland to continue his schooling there, "and had one serious relationship before I decided to go to Thailand and continue my study there and play poker.
"I studied in Thailand for two years as well as opened my own business that sells pizza, bread, baguettes, coffee, liquor and beer. I had a good staff and traveled all over Asia playing cards."
Despite already being the prime suspect in one murder, the notorious ladies' man and master-manipulator still had women falling at his feet.
"I lived together with my girlfriend in Thailand for two years she was from the U.S. and I met her there."
Article continues below advertisement
After his father died on February 14, 2010, Joran returned to Aruba to help his mother.
Van der Sloot closes his story out with a scrawled signature and the simple line, "On the 14th of May I came to Peru to play a poker tournament for the LAPT."
The self-confessed killer neatly ends his autobiography two weeks before Flores was brutally beaten and strangled in the Lima hotel room.
RELATED STORIES: