Joran Van Der Sloot Pleads Guilty To Murdering Stephany Flores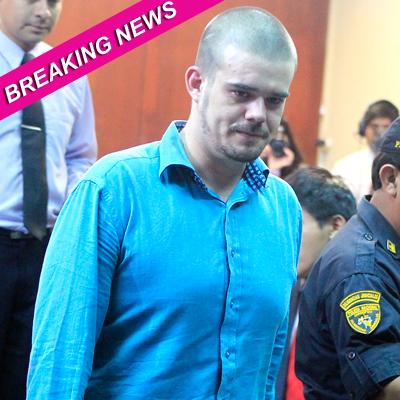 By Neil Woulfe - RadarOnline.com Senior News Director
Notorious Dutchman Joran van der Sloot pleaded guilty Wednesday to the 2010 murder of a 21-year-old Stephany Flores, a business student he met at a casino in Lima, Peru.
"Yes, I want to plead guilty. I wanted from the first moment to confess sincerely," he told the court. "I truly am sorry for this act. I feel very bad."
After his brief statement, Van der Sloot's lawyer argued that his client killed Flores as a result of "extreme psychological trauma" he suffered from the intense scrutiny thrust upon him after the 2005 disappearance of an Alabama teenager on the Caribbean island of Aruba.
Article continues below advertisement
Although he's never been charged in connection with the teen's disappearance, Van der Sloot remains the prime suspect in the case. (Flores was killed five years to the day the girl vanished.)
Van der Sloot, 24, had been expected to plead guilty last week, but his trial was delayed after he requested more time to consider his plea.
Van der Sloot entered the plea in hopes of a reduced sentence. The panel of three judges has 48 hours to announce its sentence.