Exclusive
Joran Van Der Sloot's 'Guardian Angel' Going Broke, Claims Prison Is Drugging Him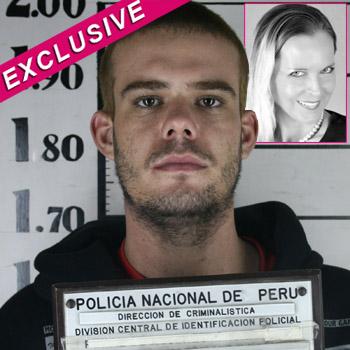 By Debbie Emery - RadarOnline.com Reporter
Despite going broke, the Florida radiologist who has been funding Joran van der Sloot's legal bills is prepared to spend her last pennies on trips to Peru to fight for his freedom, RadarOnline.com can exclusively report.
Mary Hamer, 55, of Lake City, Florida, revealed to RadarOnline.com in an exclusive interview that she has spent so much of the salary from her part-time job footing the suspected killer's defense that she even had to dig into her retirement fund to make ends meet.
Article continues below advertisement
"It is a big financial burden for me," Hamer told RadarOnline.com. "I live in a small modest apartment, I drive an eight-year-old car. I buy my clothes from thrift shops.
"It is stressful but it is for a good cause," she claimed. "It takes time and money and interest to reach out to someone who is suffering."
As RadarOnline.com previously reported, van der Sloot, 24, was officially charged with the murder of Peruvian student Stephany Flores on September 1 and faces up to 30 years in prison, but Hamer, who describes herself as his "guardian angel" said he should have had medical help for his stress.
Flores was slaughtered in a Lima hotel room on May 30, 2010, the five-year anniversary of the date an Alabama teen went missing in Aruba, for which van der Sloot was arrested twice in connection with, but never charged.
Hamer spent more than $3,000 of her hard-earned wages on visiting the Dutch man last week, but the trip was a huge disappointment for her when first, she claims, she found her ward drugged-up and disoriented, and then she was even banned from the prison.
Article continues below advertisement
"I visited Joran on Saturday and his health is deteriorating. I am worried about him," the concerned radiologist revealed.
"He said his doctor at the Castro Castro prison had put him on a lot of medication," including Tramadol (a pain killer), and Flexeril (a muscle relaxant), much to Hamer's disgust.
"If he complains of a headache then they give him a stomach medication. They even had him on anti-depression and anti-seizure drugs.
"He really has no health problems that I know of and these drugs severely interact together. Many are highly addictive and cause liver damage. Many increase suicide," revealed the medical expert, who was worried sick about Joran after her last visit.
"He was groggy, he was stumbling, he knocked over a glass of water, and he had a rash around his neck. His health has deteriorated and his health is going down."
Article continues below advertisement
Convinced that he is being overly medicated on unnecessary drugs, Mary even wrote to Peruvian President Ollanta Humala saying she wants both the doctor of the prison and the drugs to be investigated.
She claims that her outspoken moves led to her being banned from seeing Joran for the rest of her five-day trip, although there have been reports that he said he didn't want her there, she is adamant that's not true and said it is all a plot to keep her quiet.
"They don't like me because I speak to the media. They don't like me because I am revealing truths about that prison.
"They don't want me to reveal that Paco cocaine paste is very common there. That place is a drug haven," she alleges. "I don't want Joran to take it as it leads to bad decision-making."
After she had stood in the baking sun for eight hours last Wednesday trying to get access to his cell, Hamer said that van der Sloot passed her a handwritten note via his attorney claiming he had never said he didn't want to see her.
Article continues below advertisement
"It read, 'My guardian angel, Mr. Jiminez just told me that the director said that I did not want to see you. This of course is not true and you know that.
"I love you, Joran."
"What a sweetie," gushed his biggest supporter, who went on to claim that prisoners are put in solitary confinement if they complain about anything. "There's no freedom of speech inside or outside the prison."
She has appealed to both President Humala and President Barack Obama for Joran to be released into her care so that she can rehabilitate him. Assuming that unlikely scenario doesn't occur, the suspected killer will go on trial January 6 for Stephany's murder and Mary plans to spend yet more money to be there to support him.
"I still owe his attorney legal fees for December to February, but I asked him to tell me which days would be best to come to be in court, as the trial could last for months," she said, revealing that the landmark date isn't the biggest thing on Joran's mind right now.
"He would rather make peace with (Stephany's father) Ricardo Flores and that is more important to him than the trial and any lawsuits."