New Video Of Joran Van Der Sloot's Murder Confession Released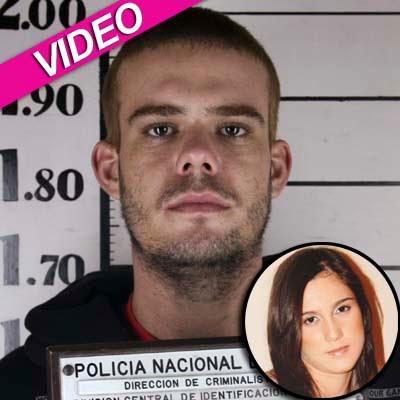 by RadarOnline.com Staff
A shocking new video of murder suspect Joran van der Sloot confessing to the killing of Stephany Flores was released on Monday, and RadarOnline.com has it.
In the chilling video interview, the 24-year-old Dutchman told police that he hit and strangled the Peruvian student, according to DutchNews.nl.
In the video obtained by Peruvian news station RPP Noticias, which is in Spanish with Spanish subtitles, van der Sloot reportedly describes how 21-year-old Flores hit him after reading an e-mail that is thought to be about his connection to the disappearance of Natalee Holloway in Aruba in 2005.
Article continues below advertisement
According to the DutchNews, Joran then reacted by hitting and strangling her.
When a police agent asks him: "Did you murder Stephany Flores?" Van der Sloot replies: "Yes," on the tape.
Wearing a hooded jacket with dark bags under his eyes and his hair shaved short, the suspect smokes continually as he calmly answers the police interrogator's questions.
As RadarOnline.com previously reported, a 10-page confession to Peruvian police in June 2010 detailed how van der Sloot slammed Flores in the face with his right elbow, strangled her for a full minute, then took off his shirt and suffocated her with it.
"There was blood everywhere," the Dutchman told investigators.
"What am I going to do now? I had blood on my shirt. There was also blood on the bed, so, I took my shirt and put it on her face, pressing hard, until I killed Stephany."
Van der Sloot later went on to retract the confession to Stephany's murder in an interview with a Dutch newspaper De Telegraaf, claiming he had been intimidated by the police, and that he did not understand the contents of the confession because it was in Spanish.
Article continues below advertisement
He was officially charged with the murder on September 1, 2011, after which his attorney, Luis Jiminez Navarro, told the Peruvian court that his client was willing to confess to the lesser charge of simple homicide but not aggravated murder, which carries a maximum sentence of life imprisonment.
Flores was found dead in a Lima hotel room that was registered to van der Sloot - it's alleged that he murdered her then took money and bank cards from her wallet and fled to Chile.
Van der Sloot also remains the prime suspect in the 2005 disappearance of Natelee Holloway in Aruba, but he has never been officially charged with her murder despite being arrested twice; her body has never been found.