Exclusive
Joran Van Der Sloot 'Suffered Post Traumatic Stress,' Claims Woman Paying His Legal Fees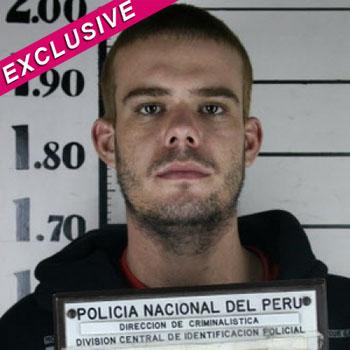 By Debbie Emery - RadarOnline.com Reporter
Joran van der Sloot was emotionally traumatized when he allegedly murdered a Peruvian student, because of the anniversary of events that happened years earlier in Aruba, according to a woman in contact with the Dutch accused killer.
"When I witnessed the news events from Peru surrounding Stephany Flores' death, I immediately recognized the PTSD (post traumatic stress disorder) symptoms that the anniversary sparked," Mary Hamer told RadarOnline.com in an exclusive interview.
Article continues below advertisement
Flores was slaughtered in a hotel room on May 30, 2010, the five-year anniversary of the date an Alabama teen went missing in Aruba, for which van der Sloot was arrested twice in connection with, but never charged.
Joran, 24, was officially charged with Stephany's murder on September 1 and faces up to 30 years in prison but Hamer, who describes herself as his "guardian angel" said he should have had medical help for his stress.
"It was high anxiety due to a previous trauma. You need medical help to deal with that and he has not had it," explained the radiologist from Lake City, Florida, who claims to have seen similar reactions from soldiers coming back from Afghanistan.
"Can you imagine international cameras pointing at you and having the press harassing you and your family?" she asked. "He has been beaten up and attacked by rich, middle-age Americans who have slandered him all over the world. There have been multiple civil rights violations made against this poor young man."
Article continues below advertisement
"I am not a judge or jury and I am not making any statement of guilt or innocence as I don't have the facts," explained Hamer, but when she heard about van der Sloot's arrest in June 2010 she contacted his lawyer to connect with his client.
Since then, she claims she has visited him twice in the run-down Castro Castro prison that he currently calls home and is planning another trip in December. In addition, she says that she also calls and sends care packages to the alleged killer.
"I talk with his attorneys and his mom, to pay legal fees for him," she told RadarOnline.com, but will not divulge how much she has splurged on his defense campaign. "I am trying to do charity work to help someone who is suffering."
Far from the cold-blooded killer that he is portrayed as, Hamer describes her ward as "polite and intelligent."
"He is learning, he is trying to improve and is now educating me on things," she explained. "He is realistic, but he studies legal books himself. He has asked his attorney for all sorts of legal books and is studying his own legal case, he's hopeful."
Article continues below advertisement
Fluent in Spanish and English, Hamer revealed that Joran has made a lot of friends in the 18 months since he was incarcerated.
"He likes the Peruvian people, he gets along very well at the prison," she said. "They like him, they send him birthday cakes, the guards and the other prisoners. He can speak everyone's languages."
"It's amazing the way he has adapted to life there, he doesn't have many wants, he lives very simply. I ask what do you need, and he says not much."
One criticism she has of Joran is he still smokes. "I am trying to get him to stop smoking, as a doctor I know what lung cancer looks like."
With a concern that is almost maternal, Mary describes herself as Joran's "civil rights advocate, spiritual guide, and guardian angel."
"I coach him about philosophy and non violence," she claims. "I tell him if you can walk away from anger then you are the new Ghandi.
Article continues below advertisement
"Joran is changing and evolving. I offered to bet him $10 last time I was there, and he told me he doesn't gamble anymore. He said 'I realize how hard addictions can be.'"
During her upcoming trip next month, Hamer will spend five days in Lima and visit van der Sloot every day in prison.
In between visits, she lovingly sends care packages of essentials to tide him over. "I mail him Germex, Balance bars, books, pens, toothpaste and peppermint soap, because he loves good hygiene. I try to stay away from candy as I've already paid for his dental work," she explained.