Exclusive
High School Praises Football Players Who Helped Special Needs Bullied Teen: 'They've Really Taken Her Under Their Wing'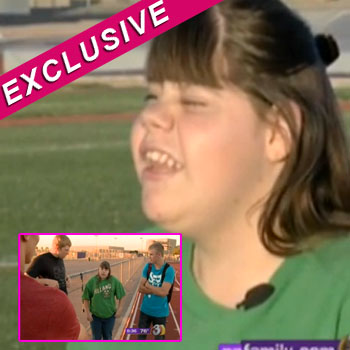 Their story of courage in the face of bullies has warmed the hearts of many.
But the athletic director at the Arizona high school where the varsity football players befriended a bullied special needs teen is not surprised by the students' actions.
"We have some great, great kids here," Paul Reynolds tells RadarOnline.com in an exclusive interview.
"I think any one of them on the team would have done the same thing and stepped up to the plate like that. They've done a really great job."
Article continues below advertisement
As previously reported, Carson Jones and his friend Tucker Workman made headlines when they started having lunch with Chy Johnson, a special needs student who was being bullied. The 16-year-old complained of even having trash thrown at her.
Chy's mom contacted Jones, a family friend, in a bid to find out who was bullying her daughter who has a brain disorder, which makes her head smaller than average.
Elizabeth Johnson said: "He took it a step further and went and gathered Chy up at lunch and she's been eating lunch with him ever since."
Queen Creek's principal Dr. Joseph Farnsworth tells RadarOnline.com that his staff had been looking into the case for some time. He says: "Our teachers in the special education department were trying to figure out who was doing it and we could not find out those specifics."
Article continues below advertisement
In the meantime Jones, Workman and their teammates took the situation into their own hands.
Reynolds says: "As soon as they heard this was happening they came and talked to me and said they were going to befriend Chy and make her feel welcome.
"They had her come over to their table at lunch to make her a part of things.
"They've really taken her under their wing just to make her high school experience really good."
But the footballers have not let the media attention go to their heads.
Reynolds says: "They're really humble kids. They've kind of shied away from the attention."
In the meantime Johnson throws her support behind the football team and the players she now calls "my boys."
"Chy comes to the games and is excited," Reynolds says. "She sees all the boys afterwards and they take care of her."
RELATED STORIES: