Exclusive
Penn State Cheerleader Who Fell Five Stories Responds To Team's Fight Song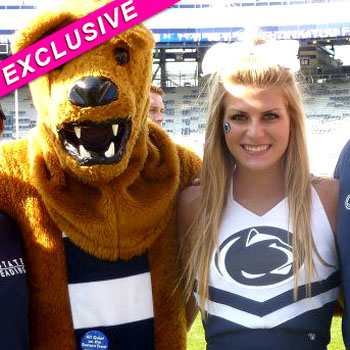 The Penn State cheerleader who plummeted five stories from a window and is in a semi-coma has responded to her team's fight song, her family's rep exclusively tells RadarOnline.com.
Paige Raque fell 39 feet from her off-campus apartment window on October 13 during a party, resulting in severe brain injuries and a fractured pelvis.
She was airlifted to Altoona Regional Health System and was in critical condition for almost a week.
Article continues below advertisement
The 19-year-old is still unable to communicate and doctors have said she could be permanently brain damaged but Monday saw a "significant breakthrough."
When Paige was played the Penn State Blue Band fight song, her heart rate sped up and she became much more animated, said Randy Jepson, the Raque family spokesperson and head coach of the men's gymnastics team.
The song, The Nittany Lion, is played at Penn State football matches and other sporting events and Paige used to cheer to it.
Jepson said: "Paige is off the ventilator now and she's had a really great few days.
"The most significant breakthrough is that yesterday she was played the Penn State fight song. Her heart rate increased and when she heard it she moved about a bit. Her eyes are also open a lot more now and she's sitting up sometimes."
Jepson said doctors still can't predict the extent of any possible brain damage and they don't know if Paige, from Louisville, Kentucky, can understand what is going on around her.
Article continues below advertisement
He continued: "We don't know if Paige is aware of her surroundings or if she can understand what people are saying to her. She's still not speaking either but the music was a great sign."
Meanwhile, Paige's older brother Parker, who is captain of the Penn State men's gymnastics team, is keeping friends and family updated on his Twitter page.
He Tweeted on Monday: "Paige had a great day.
"She is off the ventilator and she looks beautiful as ever. Thanks for the continued love and prayer!"