Exclusive
Penn State Cheerleader Who Fell Five Stories Is In Critical Condition, Could Be Brain Damaged For Life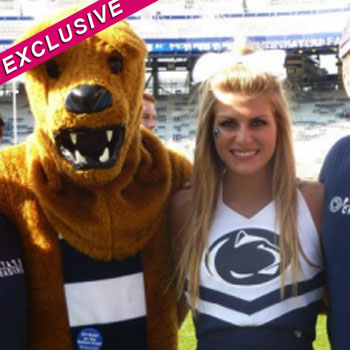 A Penn State University cheerleader who plummeted five stories from a window could be permanently brain damaged, her family's rep told RadarOnline.com in an exclusive interview.
Paige Raque fell 39 feet from the off-campus apartment where she lives during a party on Saturday night and suffered severe brain injuries and a fractured pelvis.
She remains in critical condition.
The 19-year-old "die-hard Penn Stater" was flown to Altoona Regional Health System and is still in intensive care, according to Yahoo! Sports.
Article continues below advertisement
On Tuesday, sophomore Paige, from Louisville, Kentucky, showed a "slight improvement" and opened her eyes for the first time - but was back to being sedated by Wednesday and is resting, said Randy Jepson, head coach of the Penn State men's gymnastics team and the Raque family's spokesperson.
Speaking exclusively to RadarOnline.com Jepson said that it was too soon for doctors to know if Paige's head injuries could result in permanent brain damage.
He said: "It's too early to say if Paige will be permanently brain damaged or the severity of any possible brain damage.
"It's a very slow process and because her injuries are so dramatic the doctors have to take it day by day.
"Yesterday was a very busy day for Paige – she had a lot of visitors and doctors attending to her – so today she is resting and is sedated again.
"But she is still in a critical condition."
Article continues below advertisement
The events surrounding the fall are still unclear but authorities have said it was an accident.
Jepson, who coaches Paige's older brother Parker, the Penn State men's gymnastics team captain, also said that it was normal that she was less responsive today.
He said: "The doctors said that the fact Paige is responding less today is completely normal with these types of injuries.
"It's remarkable that the only broken bones she has is a fractured pelvis."
When asked if Paige had been drinking at the party, Jepson said: "I can't speculate about that and I can't speculate about what actually happened that night."
Paige's brother Parker is keeping friends and family updated via his Twitter page.
He Tweeted Wednesday morning: "With some family and friends this morning praying for Paige! Jesus said 'Do not be afraid; just believe, and she will be healed.'"