Dodgers Stadium Beating Suspects Plead Not Guilty To Attack On Bryan Stow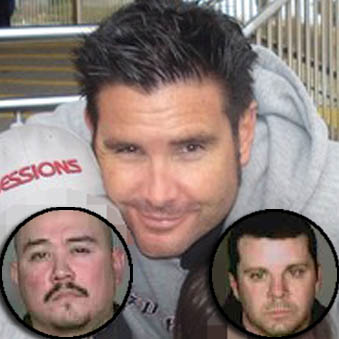 By Debbie Emery - RadarOnline.com Reporter
The two men accused of brutally attacking San Francisco Giants fan Bryan Stow both pleaded not guilty on Friday morning to charges stemming from the March 2011 attack at the Los Angeles Dodgers baseball stadium.
Louie Sanchez, 30, and Marvin Norwood, 31, both of Rialto, California, were ordered earlier this month to stand trial on one felony count each of mayhem, assault by means likely to produce great bodily injury and battery with serious bodily injury, reported KFI News.
Article continues below advertisement
As RadarOnline.com previously reported, Stow, a father of two and a paramedic, was attacked in the Dodger Stadium parking lot following the 2011 opening day game and left with severe brain damage.
During a post-preliminary hearing arraignment at the Los Angeles Superior Court on Friday, Judge George G. Lomeli also found sufficient evidence that Sanchez had personally inflicted great bodily injury on Stow, who was allegedly left for dead after the vicious beating.
Stow, now 43, suffered a fracture that resulted in the loss of a portion of his skull as well as brain damage, he is currently "unable to walk, has loss of motor skills in his arms and hands, is unable to carry on a normal conversation, unable to control his bodily functions and unable to care for himself due to diffuse, severe, traumatic brain injury,'' according to court documents, and will require "long-term care and daily assistance for the remainder of his life.''