Dodgers Opening Day Beating Victim Bryan Stow Speaks With NBC News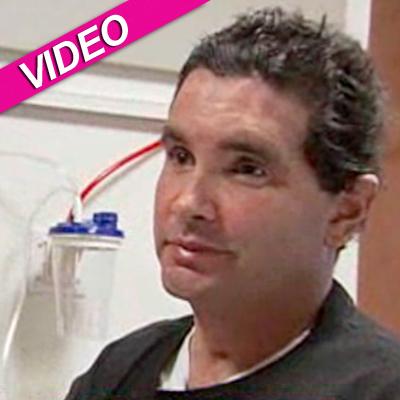 Bryan Stow, the San Francisco Giants fan savagely beaten after the team's March 31 season opener at Dodger Stadium, has broken his silence in an interview with NBC News, his first TV appearance in nine months after the beating.
Stow, a paramedic and father-of-two, spoke with Dr. Nancy Snyderman from the rehab center he's been in since October after spending months in a medically-induced coma.
Article continues below advertisement
Snyderman told Stow, "Hi, I'm Nancy," to which he responded, "Hello."
Two New Suspects In Beating Of Baseball Fan Face Judge Monday
She asked him, "How are you?" and he said, "Fine."
Snyderman said, "I've heard so much about you."
He said, "How are you?" and she answered, "I'm doing very well, thank you."
"That's good," said Stow.
Stow undergoes therapy three hours a day, six days a week, Snyderman reported, to relearn tasks as common as brushing your teeth or swallowing.
Bryan Stow Beating: Key Witness Dies After Allergic Reaction To Nuts
One-third of Stow's brain was removed in the wake of the attack, and the beating did the most damage to the area that governs decision-making, planning and personality. Stow is expected to be permanently disabled, doctors told the network, adding his speech and mobility may still improve.
"Sometimes it's, he's looking right at me and talking to me and then sometimes it's, there's no eye contact or you wonder, does he really understand what I'm telling him?" his sister Bonnie said.
Article continues below advertisement