Baseball Fan Bryan Stow Doesn't Know About Arrests In His Attack Case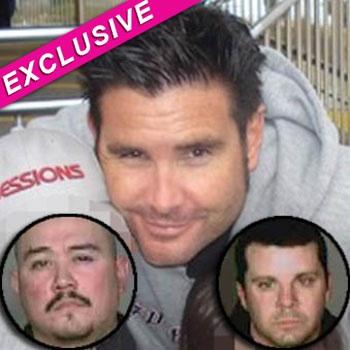 By Cliff Renfrew - RadarOnline.com Reporter
San Francisco Giants baseball fan Bryan Stow does not know about the arrest of two suspects in his savage beating on opening day at Dodgers Stadium in Los Angeles, RadarOnline.com has exclusively learned.
In an encouraging sign, Stow, a 42-year-old husband and father-of-two, has started mouthing some simple words since his latest operation to reduce swelling on his brain, while also blinking his eyes.
Article continues below advertisement
However, his cousin and best friend John Stow, has revealed that he is unaware of the arrest of the two suspects, Marvin Norwood and Louie Sanchez.
John told RadarOnline.com: "Bryan does not know. I did not tell him about the arrests."
John -- who lives in Santa Cruz -- regularly travels the 140 mile round trip to see his cousin in the hospital in San Francisco and continues to pray for a miracle recovery for his best pal.
He added: "The family went through a real roller coaster week with Bryan's latest operation and then news of the arrests.
"Everyone was really relieved when he started to mouth some simple words such as 'Stow' and 'Good Morning' after his operation.
"When I last saw him on Sunday, he said 'Bye-Bye' to me which was really emotional.
"This was the first time he had communicated with me since the attack, thankfully, he has not suffered any more seizures and his overall condition has remained the same.
MORE ON:
Los Angeles Dodgers
Article continues below advertisement
"His body is showing some signs of deterioration because he has been lying in bed for so long, and the reality is that he faces a long road with his health, but we remain hopeful."
John claims that he is not angry that people did not come forward quicker to help police identify Norwood and Sanchez, but that he's happy that Dorene Sanchez (the girlfriend of Norwood) has been working with authorities.
Dorene – who allegedly drove the car after the attack -- was arrested last week, along with her brother and boyfriend.
While the two men remain behind bars, Dorene's bail was set at 50k, and she bailed out on July 21st.
John revealed: "I just concentrate on the positive with all the support we have got from baseball fans and people throughout the country and pray that everything turns out for the best.