Exclusive
Dodgers Stadium Beating Victim's Family Not Angry With LAPD For Arrest Mix-Up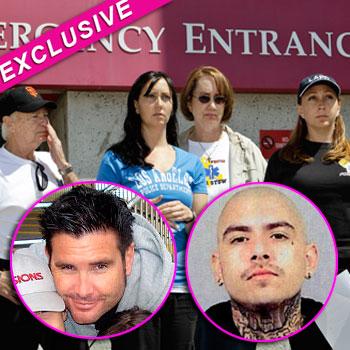 Article continues below advertisement
Tragically, Stow is totally unaware of the dramatic new developments as he underwent emergency surgery earlier this week at San Francisco General Hospital to relieve swelling on his brain that had caused him to have a new seizure.
His great aunt Trudie Fassio told RadarOnline.com: "We are just hoping they have the right person this time after all we have been through.
"The family is not angry with the LAPD because we think that they are doing all that they can to solve the case.
"Bryan had new surgery recently to relieve swelling on his brain and he's still in a serious condition in hospital in San Francisco.
"Several relatives have gone to see him and he had opened one of his eyes which was encouraging for us all."
Stow, 42, of Santa Cruz, was attacked by two men outside Dodger Stadium after attending the season opener between the Giants and archrival Los Angeles Dodgers.
A paramedic and father of two, Stow was transported from Los Angeles to San Francisco in May after being in a coma and in critical condition for months before doctors upgraded him in June before his latest setback.
MORE ON:
Los Angeles Dodgers
Article continues below advertisement
The investigation into his attack has taken a dramatic twist in the last 24 hours with news that prime suspect Ramirez - who is currently in jail in San Diego for a parole violation - will now be exonerated regarding the Stow attack.
His lawyer Anthony Brooklier revealed today that he would not be pursuing a civil case against Los Angeles Police Department for wrongfully accusing his client of the attack.