Suspect's Lawyer: We Won't Sue LAPD For Wrong Arrest In Beating Of Giants Fan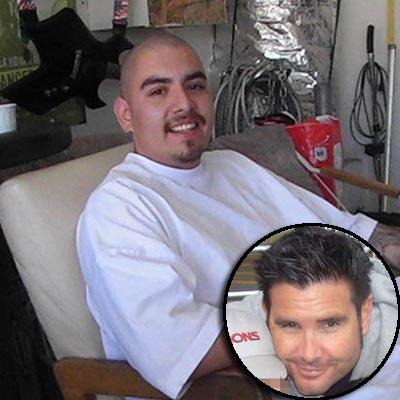 By Cliff Renfrew - RadarOnline.com Reporter
The lawyer representing Giovanni Ramirez -- the man wrongfully accused of beating San Francisco Giants fan Bryan Stow -- said Friday that he would not be pursuing a civil lawsuit against the Los Angeles Police Department.
The L.A. Times was first to report Thursday that two other people have now been arrested in connection with the savage beating that happened at Dodgers Stadium on March 31. ( The LAPD has yet to confirm the story).
Article continues below advertisement
When asked on L.A. TV station KTLA's morning program on Friday if a law suit was pending, Ramirez's attorney, Anthony Brooklier, said: "Not on my watch.
"There was no case that they made up evidence or anything like that they just made a mistake.
"I actually credit the LAPD for keeping on pursuing the case."
Amazingly, Brooklier revealed that he had not spoken to Ramirez in person about the new development in the case, because he's currently in jail in San Diego over a separate parole violation.
But, Brooklier believes that he will have heard about it inside prison and he called for Ramirez to now be released because of the new developments in the case.
The lawyer has always believed that his heavily tattooed client was innocent and that the parole administration was pressured to keep him in jail because of the high profile Stow case.
He added: "Right from the beginning I believed him as he had a look of bewilderment on his face when he was accused.
MORE ON:
Los Angeles Dodgers
Article continues below advertisement
"We had detailed information about where he was at the time of the attack on March 31, and all of this was passed on to the police.
"I am calling for him to be released because he was jailed after they found a gun in a laundry basket of a house where he was with several other people. If it was a jury case, it would be thrown out.
"Giovanni told me that it was a cowardly crime to kick somebody while they are down.
"I do know anything about the two new suspects but the most important thing is that the Stow family gets justice in this case because they do not want the double pain of the wrong people being prosecuted."
Stow, a 42-year-old husband and father-of-two, remains hospitalized in serious condition with severe head injuries. He lives in Santa Cruz and worked as a paramedic in San Mateo.
RELATED STORIES:
Big Break In Beating Of San Fran Giants Fan – 2 New Arrests Made, Previous Suspect Likely Off Hook