Jon Cryer In Bloody Cycle Crash During Nautica Malibu Triathlon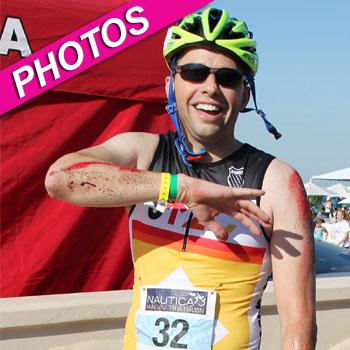 He may be Cryer by name but Two and a Half Men star John Cryer didn't succumb to the waterworks after sustaining painful injuries when he fell off of his bike during the Nautica Malibu Triathlon on Sunday.
The 47-year-old was seen walking to the first aid tent covered in road burns and with cuts and bruises on his arms and legs.
The affable actor still managed a smile, and although in pain, he was thankful to be wearing a helmet because he hit his head when he careered off his bike.
Article continues below advertisement
Jon grimaced as the medics poured a cleansing solution on his burns and bandaging up the left side of his body.
His wife Lisa Joyner and their three-year-old daughter Daisy rushed to his side but he managed to stay positive and even cracked a few jokes with the medics as they tended to him.
But Jon hasn't been put off by his ordeal and has vowed to return next year to give it another go! What a trooper!