Charlie Sheen Unleashes Obscene Rant On Staples Center Security Guard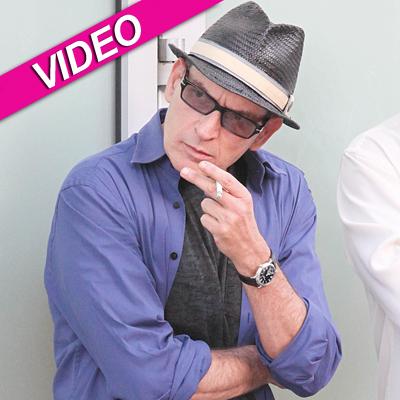 WARNING: Story And Video Contains Offensive Language
The L.A. Kings weren't winning Wednesday, and neither was Charlie Sheen.
The notoriously hot headed actor blew his stack at the Staples Center, where he was in attendance to watch the Kings and New Jersey Devils tangle for the NHL's Stanley Cup -- before he was shut out of the playoff game after a mishap.
Here's how it all went down:
The Anger Management star went out for a cigarette, despite the venue's no re-admittance policy. (Noteworthy: There are designated smoking areas in the venue itself.)
Article continues below advertisement
When the former Two and a Half Men star was told he could not re-enter the building, he exploded on the female security guard, barking at her, "You know what? f*cking blow my b*lls, alright, you f*cking a**hole."
Watch the video on RadarOnline.com
He later unleashed his famous verbal skills, asking a nearby cameraman the rhetorical question, "Have common sense and common courtesy gone in society?
"That was what I was trying to impress upon her."