Exclusive
Penn State Cheerleader Who Fell Five Stories Still Comatose, But Responding Well To New Drugs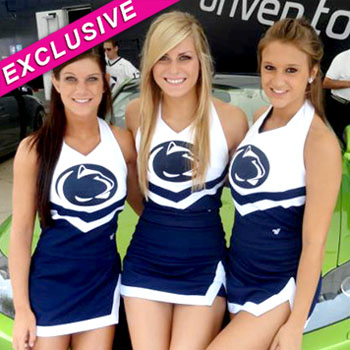 A Penn State cheerleader who is in a semi-coma after falling five stories from a window is "responding well" to brain stimulating drugs, her family's rep exclusively told RadarOnline.com.
Paige Raque, 19, plummeted 39 feet from her off-campus apartment window during a party on Saturday night, resulting in a fractured pelvis and severe head injuries.
Sophomore Paige remains in critical condition at Altoona Regional Health System and on Wednesday the Raque family spokesperson Randy Jepson told RadarOnline.com that it was possible Paige could suffer permanent brain damage.
Article continues below advertisement
He said doctors said it was too soon to say for sure. On Thursday Jepson confirmed that Paige was still comatose but that she had "responded positively" to medication to stimulate brain activity.
Jepson, who is also the head coach of the men's gymnastics team at Penn State, said: "Paige has been given drugs – some sort of amphetamines – to stimulate her brain.
"She has responded positively so that's a great start. The drugs speed up her brain process."
The events surrounding the tragic fall are still unclear but authorities have said that it was an accident. Jepson also said that Paige, from Louisville, Kentucky, has still not spoken but that she can slightly move her face, as well as her limbs.
"Paige is still comatose and she hasn't talked yet but she can make some facial expressions," he said. "She's obviously very uncomfortable and I think she's trying to express that!
Article continues below advertisement
"She can also move her arms and legs a bit."
Paige's brother Parker Raque is keeping friends and family updated via his Twitter page.
He Tweeted on Wednesday night: "Paige did a lot of resting today but we did see her open her beautiful eyes a bit. hoping for more progress in next few days!"
Jepson, who coaches Parker, added: "The family are hanging in there.
"They're trying to stay positive but know her recovery is going to be a long, slow process."