Vigilante Group Accuses ANOTHER Man Of Driving Canadian Teen To Suicide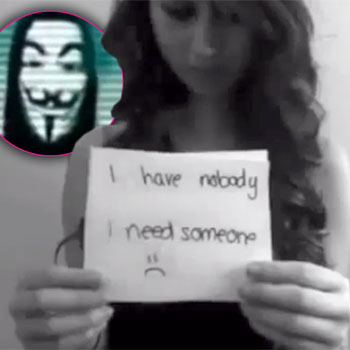 Article continues below advertisement
As RadarOnline.com previously reported, a mysterious "angel of truth" appeared on a YouTube video on Monday under the name of Anonymous to claim that a 30-year-old man from New Westminster, British Columbia was to blame for Vancouver area teen Amanda Todd taking her own life on October 10.
After the hacktivist group revealed the suspect's name, a torrent of outrage flooded social media and hate groups threatening to kill him sprouted up all over Facebook and Twitter.
"It certainly didn't assist our investigation," Royal Canadian Mounted Police Sgt. Peter Thiessen told Radar regarding the creepy video posting threatening the man with punishment for his alleged crime. "We have been monitoring social media and there have been a lot of inappropriate comments online."
The 30-year-old man from New Westminster, British Columbia, first blamed for cyber stalking Todd is currently facing unrelated charges stemming from an August incident of alleged sexual assault against a victim under 16.
Article continues below advertisement
An unnamed member of Anonymous told the Star that the group "didn't care" if it was wrong because the man had been accused of similar crimes.
The accused man certainly does care about his name being plastered all over the internet in connection with Todd's hanging death though, and his attorneyreleased a statement revealing that the RCMP has cleared him.
"Police have announced he is a person of no interest to them regarding Amanda Todd. His thing came about through an anonymous group that hacked in through a computer and got a lot of IP addresses, his being only one of them," said David Gable.
Before tormented Todd committed suicide last month, she posted her own YouTube video detailing her nightmare of bullying and self-harm, holding up cards telling of disturbing interactions on live webcams that began in 7th grade.
She went on to reveal that how after flashing a man who had called her "pretty and beautiful," she got a message on Facebook a year later threatening that if she didn't put a show on for him he would show "boobs" to all her friends, family and school pals. Then one morning over Christmas she got a knock on her door at 4 a.m. from the police, telling Amanda that her photo had been sent to everyone.
Article continues below advertisement