Purple Heart Army Hero Pushes Wife To Safety Before He's Tragically Killed By Train, Three Other Vets Die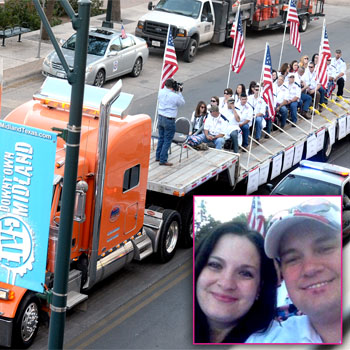 Army Sgt. Joshua Michael, a two-time recipient of the Purple Heart, died following a horrific accident in Midland, Texas Thursday afternoon, proving to be the hero one last time in his final moments when he saved his wife of 15 years, Daylyn, by pushing her to safety.
Sgt. Michael was one of the four who died after a Union Pacific freight train hit a parade float carrying veterans en route to a banquet celebrating their wartime heroics. Sixteen people were injured in the incident.
Article continues below advertisement
Sgt. Michael "would do for others before he would do for himself," his mother-in-law Mary Hefley told Amarillo Globe News.
His family said in a statement: "Words cannot express our grief or our feelings in this moment of profound loss. Josh was the kind of man who fought for what he believed in and for those he loved.
"Through two tours of duty in Iraq, having been wounded in combat and receiving two Purple Hearts, his love of country and for his wife, Daylyn and their two children shone through. The family appreciates everyone's thoughts and prayers in this very difficult time."
Michael's close friend Cory Rogers told TODAY the fallen hero was "a great family guy" and "an all-around American hero."
Eyewitness Daniel Quinonez described the carnage to the AP, saying that "the train honked its horn, but the 18-wheeler could not go anywhere because of the other one being right in front of it.
"It was a horrible accident to watch happen right in front of me. I just saw the people on the semi-truck's trailer panic, and many started to jump off the trailer. But it was too late for many of them."
Article continues below advertisement
The aftermath of the horrific event reminded parade volunteer Sudip Bose, who served as a front-line physician in Iraq, Fallujah and Baghdad, of war.
"It was a scene of total chaos," the military medic said. "Instincts kicked in … they were applying tourniquets, holding pressure to the wounds."
Among the victims include Sgt. Michael, 34; Sgt. Maj. Gary Stouffer, 37; 47-year-old Sgt. Maj. Lawrence Boivin and 43-year-old Sgt. Maj. William Lubbers.