'It's Daddy!' Navy Reservist Dresses As Darth Vadar And Gate-Crashes Son's 'Star Wars' Party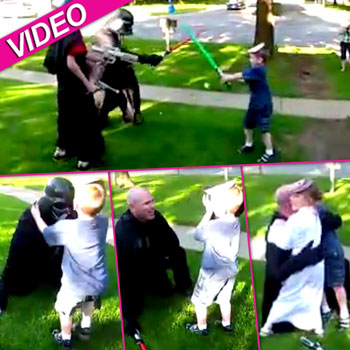 By Debbie Emery - Radar Reporter
A five-year-old was far happier than Luke Skywalker to find out it was his father underneath the heavy mask and black cloak of Darth Vadar!
After being posted in the Middle East for the past three months, Navy reservist Justin Whyte made a very special trip back to Wichita, Kansas, to surprise his son at his Star Wars themed fifth birthday party, reported ABCNews.com.
Article continues below advertisement
Aiden had just won a hard-fought light saber fight with the nemesis, thinking it was his 13-year-old cousin under the costume, but squealed in delight when he took the mask off and discovered it was his daddy underneath.
"My son was turning five and my husband was not supposed to be home," Susie Whyte, 31, told ABCNews.com. "My kids were told over and over we won't see him until Christmas. We snuck my husband home from the airport.
"Most of the family knew he was going to be there, except for the kids," said Susie, whose six-year-old daughter, Emily, aka Princess Leia, smothered her father with kisses when she saw him. "She was very excited to see him. Aiden just kind of stood there because he knew his dad wasn't going to be there. It was a huge surprise for him."
The heartwarming reunion has become a viral sensation since it was first posted on WelcomeHomeBlogs.com, a site devoted to videos of military homecoming reunions, and has already gotten more than 260,000 hits.
RELATED STORIES:
Soldier Gets A Very Warm Welcome From Pining St. Bernard
Welcome Home! Pound Dog's Delight As His Master Returns From War
A Dog Really Is A Soldier's Best Friend! The Story Behind That Crazy Happy Homecoming Video
Happy Homecoming! Dog Welcomes Soldier With Unbridled Enthusiasm!