'Mini Darth Vader' Leaves Hospital, All He Wants Is 'A Milkshake'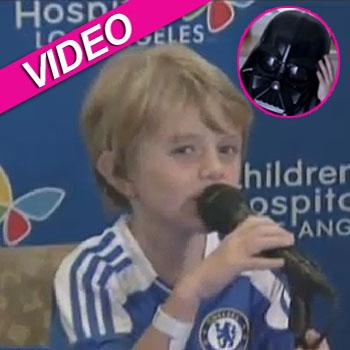 By Debbie Emery - RadarOnline.com Reporter
The Force has definitely been with "Mini Darth Vader" Max Page in the four days after a his open heart surgery, and the seven-year-old left the hospital on Monday while revealing that all he wanted after his ordeal was a "milkshake."
The pint-sized star of the 2011 Volkswagen Super Bowl commercial made his big announcement during a news conference Monday at the Children's Hospital Los Angeles, where he told reporters: "Well, I'm excited about a lot of things, especially having a milkshake," reported LosAngeles.CBS.local.com.
Article continues below advertisement
"I'm feeling great," said Max, after Thursday's two-hour surgery to to treat the congenital heart defect that he was diagnosed with when the freckled blonde was just three months old. "I do feel a little pain in my chest, but not much."
"We're hopeful that this will be -- quite possibly -- the last major surgery that Max will need," said Michael Silka, co-director of The Heart Institute at the hospital. The porcine (pig) valve that was used to replace his defective pulmonary valve should last 10 to 15 years, according to the website of the Children's Hospital Los Angeles. While he was scared about the procedure before going into the operating theater, the plucky little boy was brave about it. "I don't have a choice. I have to go through it," Max said, according to his mother, Jennifer Page. "I don't like it and it's still scary - but I have to. So I think I might as well go through it with a good attitude."
Page is expected to spend six to eight weeks of recovering from his eighth surgery in seven years for Tetralogy of Fallot, a congenital heart defect that causes too little oxygen to be present in the blood.