Mini Darth Vader In Volkswagen Commercial To Undergo Heart Surgery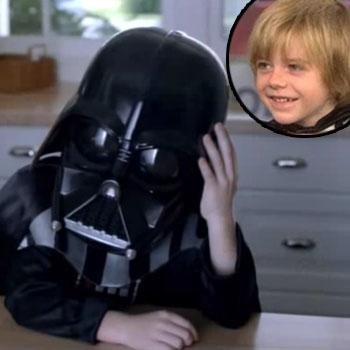 Max Page, the boy who played a mini Darth Vader in Volkswagen's wildly popular The Force commercial, is scheduled to undergo open heart surgery on Thursday.
"Max was born with a congenital heart defect, and the surgery will replace his pulmonary valve and fix a hole in his heart," Deutsch LA told Business Insider.
According to an email sent to the site, Max 7, was only told this past Sunday about the operation.
Article continues below advertisement
The email reads: "We told Max and Els Max's brother Sunday afternoon. Initially, Max was crying and repeating how scared he was. We unpeeled the layers by asking what exactly he was afraid of and tackled each issue as he could verbalize it. Blood draws, spending the night in the hospital and hurting are the big three. He was also very sad that summer would be in rest and recovery instead of playing baseball, golf and traveling. Around bedtime he asked if I would stay up with him and talk. He wanted to make a "CAN DO" list. So we wrote out all the things he can do so he could focus on those. Then he said we definitely had to "Fun Up" the house. So we went and got Els out of bed and spent the next hour redesigning each room with a theme, special rules and secret codes. In the Library (Els Room) we have to read with flashlights. On Whisper Lane (the hallway) you have to whisper. Going up the stairs you have to sing "Take me out to the ball game". The most favorite is the garage—Explode Zone—science experiments and art projects, the messier the better.
"Last night, I wanted to make sure he was doing as well as he seemed. He said, "Mom I don't have a choice. I have to go through it. I don't like it and it's still scary—but I have to. So I think I might as well go through it with a good attitude." So as we hop on Max's coattails to go on this ride—we too, shall do it with a good attitude. Though we will still tremble with tears and have our overwhelming moments—we will focus on the "CAN DO" and enjoy our Fun Up House.
Article continues below advertisement
"Mighty Max wants me to include one more thing—one of the lines he uses when he speaks to groups.
"Kids, if you use your FORCE and dream big, you can achieve anything. We may be small—but we're mighty!"
Max's mini Darth Vader commercial premiered during the 2011 Super Bowl and became an instant hit.
When he's not acting, Max raises money for other children with heart conditions at Children's Hospital Los Angeles.