'Mini Darth Vader' Max Page Doing 'Very Well' After Open Heart Surgery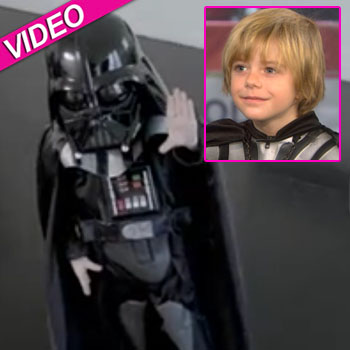 By Debbie Emery - Radar Reporter
The little boy who donned a Darth Vader costume and starred in one of the most memorable commercials of the 2011 Super Bowl when he channeled The Force through a Volkswagen is recovering from a successful open heart surgery.
Max Page, 7, underwent the two-hour surgery at the Children's Hospital Los Angeles on Thursday to treat the congenital heart defect that he was diagnosed with when the freckled blonde was just three months old.
Article continues below advertisement
"The surgery today went very well,'' said cardiothoracic surgeon Vaughn Starnes, who performed the procedure, in a statement released by a hospital spokesman. "We had to replace his pulmonary valve, which we did without incident." Max was given a "porcine manufactured valve" from a pig, which was the size of a small adult's pulmonary valve.
As RadarOnline.com previously, the child actor was only told of the surgery on Sunday, and his parents revealed in an e-mail that he "was crying and repeating how scared he was," so they made a "CAN DO" list and "Fun Zones" throughout the house to distract him in the days leading up to it.
Page is expected to spend five more days in hospital and another six to eight weeks of recovering from his eighth surgery in seven years for Tetralogy of Fallot, a congenital heart defect that causes too little oxygen to be present in the blood.
When he's not acting, Max raises money for other children with heart conditions at Children's Hospital Los Angeles.