General Petraeus On Scandal: I Screwed Up Royally But Wife Is Sticking By Me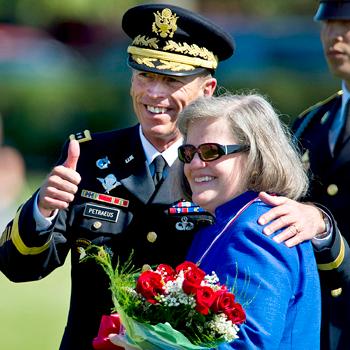 After a headline-making extramarital dalliance with his official biographer, General David Petraeus oddly refers to himself and his wife as "Team Petraeus" in a new letter to an old pal, RadarOnline.com is reporting.
"I screwed up royally," Petraeus, 60, wrote to retired Brig. Gen. James Shelton, according to the New York Post.
He made it clear that his wife Holly is standing by him through the storm of controversy ensuing from the revelation of his affair with Paula Broadwell, 40.
Article continues below advertisement
The ex-CIA chief wrote: "I paid the price (appropriately) and I sought to do the right thing at the end of the day."
"Team Petraeus will survive though I have obviously created enormous difficulty for us," he wrote. "Holly is, however, once again demonstrating how incredibly fortunate I was to marry her."
'Team Petraeus' seemed to be on its way to disbanding when reports surfaced weeks ago that Holly was "furious" at her husband over the affair. But that revelation is certainly less surprising to many than the General's assertion that his wife will not opt to leave the team and become a free agent!
Shelton spoke about the letter he received from his old pal and said Petraeus is "a superb human being. What happened to him happened to a number of people."
The Post reports that Shelton has known Petraeus for three decades and that Shelton offered a weak excuse for his pal's actions with Broadwell: "He's a man, and all men have an Achilles' heel," Shelton said.
Petraeus resigned on Nov. 9 at the height of the scandal.