Petraeus Socialite Jill Kelley Banned From Military Base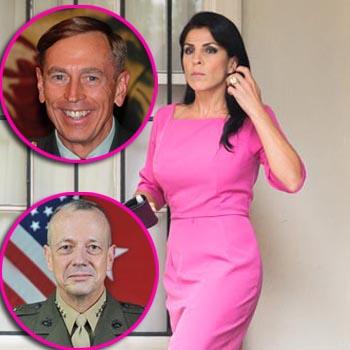 Jill Kelley is no longer welcome at MacDill AFB. The socialite who launched the David Petraeus sex scandal that's now also enveloped General John Allen, has been banned from the Tampa military base where she met both the four star military men, the Tampa Tribune is reporting.
"She did have base access but does not currently because of her involvement in an ongoing investigation," a military official told the Tribune.
Article continues below advertisement
The slam from her former best buddies in uniform comes on top of revelations of the Kelley family's dismal financial picture.
Regions Bank filed a foreclosure lawsuit against Jill and Scott Kelley in April 2010, claiming they failed to make payments on the mansion where they often entertained Gen. Petraeus, Gen. John Allen and other top military men. The bank demands repayment of $1.8 million in principal and interest on the mortgage and is foreclosing on the property.
And the couple's Kelley Land Holdings defaulted on a $2.1 million loan from Central Bank. It was secured by a commercial building in Tampa, which the bank eventually took back. Then there's FIA Card Services that sued Jill Kelley for defaulting on more than $25,000 in credit card debt.
Kelley had been functioning as an unpaid social liaison at MacDill, where Petraeus and Allen - his successor as the top military commander in Afghanistan. Kelley met both men in 2008 when they were based at MacDill with the U.S. Central Command.
Article continues below advertisement
As RadarOnline.com has been reporting, when Kelley began receiving anonymous threatening emails telling her to stay away from her friend, General-turned CIA Director David Petraeus, she turned to the FBI for help. The agency's investigation uncovered that the emails were sent by Paula Broadwell who they then accidentally discovered was having an affair with Petraeus!
Kelley may soon be told to stop using any kind of official title.