Happy 49th Birthday, Brad! Pitt's Transformation From Hunky Stoner Sex Symbol To Even Hunkier Family Man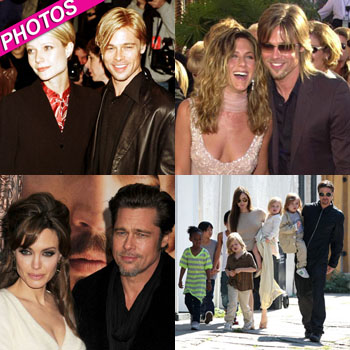 It's hard to believe that Brad Pitt is almost 50!
The critically acclaimed actor, who has been in the public eye for more than 20 years, officially entered into the last year of his 40s on Tuesday. From a hunky twenty-something actor, to a celebrated thespian and father of Angelina Jolie's babies, Brad has grown up and matured in the public eye – and RadarOnline.com has photos of him through the years.
Article continues below advertisement
After struggling for several years trying to make it as an actor, Pitt finally made a name for himself in 1991's Thelma & Louise and embarked on a successful film career with 90s hits like A River Runs Through It, True Romance, Interview with the Vampire: The Vampire Chronicles, Legends of the Fall, Se7en, Meet Joe Black, Fight Club and 1995's 12 Monkeys, which scored him his first Academy Award nomination.
Just as famous for his personal life as for his career, during that decade Pitt romanced such beauties as Robin Givens and Juliette Lewis, and was famously engaged to Gwyneth Paltrow, whom he dated from 1994-1997, before hooking up with Friends star Jennifer Aniston in 1998.
Marrying Aniston in 2000, the millennium proved to be fruitful for Pitt, who started nabbing all the hottest roles of the day. Troy, Ocean's Eleven and Spy Game were a few of his blockbusters during that period, but it was Mr. & Mrs. Smith that really ended up being a game changer for him.
MORE ON:
Maddox Jolie-Pitt
Article continues below advertisement
On the set of the spy movie in 2004, he got extremely close to his costar, Angelina Jolie, and rumors of a romance began swirling around Hollywood. Despite denying that the sparks between them were anything more than platonic, Pitt and Aniston announced they were divorcing in January 2005, and just a few months later, photos of Pitt and Jolie vacationing in Africa together surfaced.
Brangelina quickly became Hollywood's top power couple, and Jolie finally confirmed their relationship in 2006 by announcing her pregnancy with Shiloh. Pitt also legally adopted Jolie's two children, Zahara and Maddox in late 2005.
Pitt went on to star in the critically acclaimed films, The Assassination of Jesse James by the Coward Robert Ford, Burn After Reading, The Curious Case of Benjamin Button, Inglourious Basterds, The Tree of Life, Moneyball, and most recently, Killing Them Softly.
He and Jolie have added to their ever-growing brood, adopting Pax in 2007, and giving birth to twins Knox and Vivienne in 2008.
After seven years together, the couple announced in April 2012 that they had given in to their kids' demands and gotten engaged, though it is unclear when they will officially become man and wife.