Brad Pitt & Mom Don't Fight Over Gay Marriage, Instead They Enjoy, 'Very Nice, Very Open Discussion'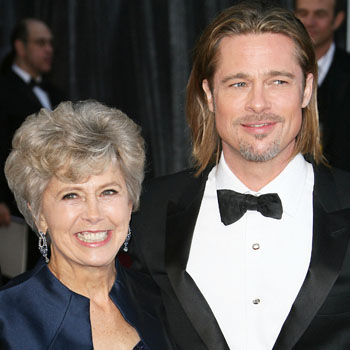 Article continues below advertisement
But, despite their polar opposing beliefs, Pitt tells People magazine that they prefer open discourse to trading verbal blows.
"Certainly we have those discussions about gay marriage," Pitt says. "I come from a Christian family and gay marriage goes against Christian beliefs, as far as what's going to get you in to heaven or not. My argument is, that may be as you believe, and it may be true in the end — I don't think so — but let your God make that call, and in the meantime we live in a country where everyone should be treated equally, so let's treat everyone equally."
So, when it comes to discussing the issue with his mom, do they fight?
"No, it's a nice, very open discussion," he insists. "We grew up with a very specific set of rules, and challenging those rules has never been a closed door. Certainly our views can evolve. I don't see them as letting go."
Meanwhile, Brad dodges the question about if he is going to walk down the aisle with Angelina Jolie in 2013, but he did admit it's something their kids are pushing for.
Article continues below advertisement
"Well, it means something to our kids. They want to see it happen," Brad says when quizzed if his kids are pressuring the Hollywood super couple to marry.
And what kind of wedding does he have in mind?
"Just family. Keep it simple. Keep it simple – really," Brad says.
Next year, Pitt turns 50. But he tells People it's not something that he is worried about and he's determined to enjoy life day by day.
"This is what I think about it: 'Okay, you're way over the midpoint. You don't know how much time you have left. Make sure you enjoy the year more than ever,'" he says about the milestone.
"I want to make sure I'm doing things of value – that mean something to me. Make sure I'm doing things. I've always wanted to try. And make sure I'm not doing things I don't want to do. Because I'm very conscious; I know it's limited."
Pitt also takes time to poke fun at George Clooney when told he could ask his pal for advice on turning the big 5-0.
"No, no, he's too old," Brad jokes. "What can he tell me? Other than how to protect my liver!"
RELATED STORIES:
Brad Pitt Says 'The Time Has Come' To Marry Angelina
Brad Pitt In World War Z: Watch The First Trailer!
Brad Pitt's New Role: Furniture Designer!
Scary Costume Alert! Angelina Jolie Takes The Kids Shopping For Halloween!