Brad Pitt Says 'The Time Has Come' To Marry Angelina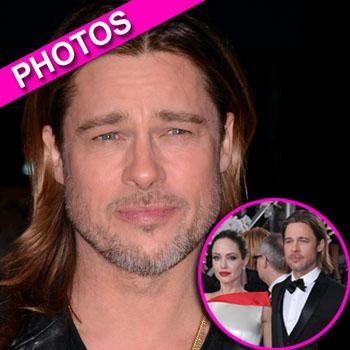 Don't forget to RSVP! The long-awaited wedding of Brad Pitt and Angelina Jolie may be sooner, rather than later.
"I am getting more pressure from my kids, and it is something I want to do within their lifetime, but I also feel like the time has come," Pitt said Monday night in New York at the premiere of his new drama, Killing Them Softly. (Jolie didn't attend the event.)
"The time is nigh," Pitt -- who's been in London to film World War Z -- added. "It's soon. I got a good feeling about it."
Article continues below advertisement
Earlier in the day, Pitt was more vague about the possibility of a wedding when talking to Extra: "We really don't have one," the Oscar nominated actor promised. "I don't know what's going to happen in two weeks. I certainly don't know what the new year is going to bring!"
Pitt, 48, has been with Jolie, 37, even since they worked on the film Mr. & Mrs. Smith back in 2005. They became engaged this past spring, although they have repeatedly said that they would not walk down the aisle until same-sex marriage was legal in all 50 states.