Former Pothead Brad Pitt Slams 'War On Drugs'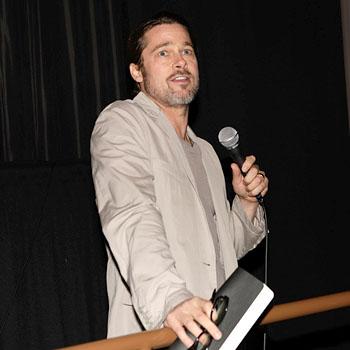 Brad Pitt is openly slamming the federal government's so-called War on Drugs.
It's been "an incredible failure," The Fight Club star told The Huffington Post.
Pitt, who is the executive producer of the new documentary The House I Live In - focusing on President Richard Nixon's 1972 "war on drug abuse" plan - confessed: "My drug days are long since passed but it's certainly true that I could probably land in any city in any state and get you whatever you wanted.
Article continues below advertisement
"I could find anything you were looking for. Give me 24 hours or so, and yet we still support this charade called the drug war."
Pitt openly discussed his days of"smoking way too much dope" earlier this year, so he feels he has a certain expertise when it comes to the government's battle against drug use.
"We have spent a trillion dollars," he said. "It's lasted for over 40 years. A lot of people have lost their lives for it. And yet we still talk about it like it's this success."
The actor/producer, engaged to and dad to six kids with Angelina Jolie - who also with a colorful past with narcotics - was frank too on his opinion that drugs should be legalized.
"The only way to end the war on drugs is to take the profit out of it…we have to look at the what-if-everything-was-legal and people were allowed to make their own choices," he said.
Pitt introduced the harrowing docu, directed by Eugene Jarecki, at its premiere Friday night in Los Angeles.