'Depressed' Brad Pitt Explains Pothead Past 'I Got Really Sick Of Myself'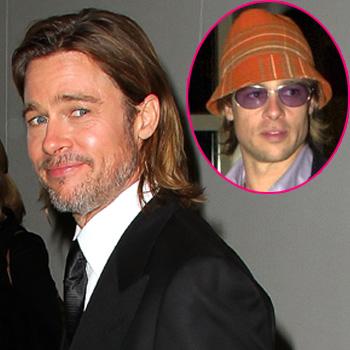 It wasn't easy being Brad Pitt in the 1990s!
The Academy Award nominee opens up in a new interview with The Hollywood Reporter, revealing that he suffered from depression after his rise to fame in the 1990s and turned to Mary Jane for support – and RadarOnline.com has the details.
"I got really sick of myself at the end of the 1990s," he admits. "I was hiding out from the celebrity thing; I was smoking way too much dope; I was sitting on the couch and just turning into a doughnut; and I really got irritated with myself. I got to: 'What's the point? I know better than this.'"
Article continues below advertisement
Explaining how he "used to deal with depression," he admits, "I was doing the same thing every night and numbing myself to sleep... the same routine: Couldn't wait to get home and hide out. But that feeling of unease was growing and one night I just said, 'This is a waste.'"
The ultimate reality check, was a trip to Casablanca, Morocco, where he witnessed extreme poverty and devastation.
"I just quit. I stopped grass then -- I mean, pretty much -- and decided to get off the couch."