Odd Couple Exes Overload! 10 More Of The Most Mismatched Celebrity Romances Of All Times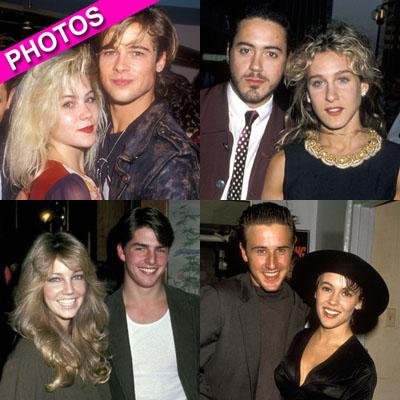 There are some relationships that Hollywood stars would probably like to forget!
From rock gods and sexy singers to the hottest television and movie stars, it's hard to believe that these celebrities ever hooked up. RadarOnline.com brought you photos of 10 really shocking celebrity couples from the 1980s to the present day, and now we have 10 more that are equally as surprising.
Brad Pitt wasn't always breaking hearts! Christina Applegate was 'dating down' when she hooked up with the then-unknown actor in the late 1980s, bringing him to the MTV Movie Awards. The Samantha Who? star later revealed that she felt guilty for dumping him at the show, and leaving with someone else, but he's most likely gotten over the snub by now.
Article continues below advertisement
More than just friends? Heather Locklear was linked to Tom Cruise in 1982, but despite spending a lot of time with the Top Gun hunk, the Melrose Place star claimed the relationship was purely platonic.
The silver fox and Mrs. John Travolta were once a serious couple! Before they were famous, Kelly Preston and George Clooney were live-in lovers in the late 1980s – they even had a pet pig together.
It's hard to imagine Edward Norton and hot mess Hole singer Courtney Love in a healthy relationship! After the duo met on the set of The People vs. Larry Flynt in the 1990s, they became one of the oddest couples in Hollywood.
Which other Hollywood stars made RadarOnline.com's oddest couples ever list? Find out by clicking here.