Angelina Jolie Cries While Visiting Syrian Refugee Camp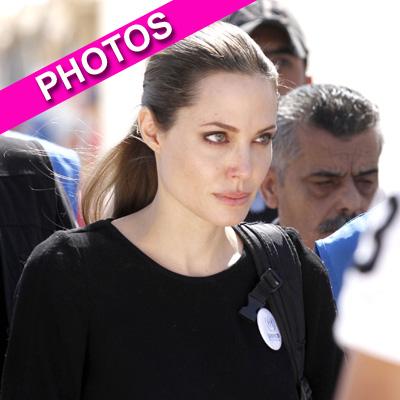 Article continues below advertisement
"I am very concerned, the world is very concerned," Angelina said. "What is very heartbreaking is when Syrian people ask you why you think no one is able to find a solution for them."
Angelina's eyes welled up with tears as she recalled what she has been told about their plight.
"What they described on the ground, hearing it from them is so horrific," she said.
"When you meet so many innocent people and civilians, the people of Syria are asking who is on their side. `Who is going to help us as the months go on?'"
The mother of six said the refugees told her "there will be no more of us" left in Syria as the fighting continues. She met with Syrian refugee women and toured the camp with U.N. Refugee Chief Antonio Guterres and Jordanian Foreign Minister Nasser Judeh.
"This mission that we are sharing has a key objective. It is to draw attention to the international community to express a much more stronger solidarity with Syrian refugees and the host countries that have kept their borders open to all those fleeing the conflict," said Guterres.