Brad Pitt On Angelina Jolie Wedding: 'No Plans Yet, Other Than We're Gonna Do It!'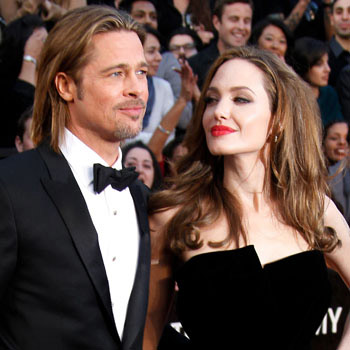 Despite rumors that his nuptials with Angelina Jolie are impending, Brad Pitt was giving very little away at the London screening of his latest film Thursday night, RadarOnline.com is reporting.
The rumor mill has been in overdrive that Pitt, 48, and Jolie, 37, are readying their South of France estate for an intimate ceremony, but Brad was quick to shoot down those claims.
At the Mayfair Hotel screening for Killing Them Softy, he said, "No plans yet. Other than, we're gonna do it," when quizzed if a date was decided for the big day.
Article continues below advertisement
Dressed in a beige and cream combination of slacks, T-shirt, blazer and shirt, Pitt went for the smart casual look with his hair tied back in a small ponytail.
Despite his new flick being a crime thriller that's not suitable for kids, the father of six said he was making movies now that he hoped his children could watch in thefuture.
He said, "It was kind of the reason for the zombie film I've done World War Z - my boys are going to like that one. But I'm actually more interested in the films that they're going to enjoy when they're adults."
Based on the George V. Higgins novel, Cogan's Trade, Pitt plays professional enforcer Jackie Cogan who investigates a heist that went down during a mob-protected poker game.
And Brad was also full of praise for his Killing Them Softly co-stars, Richard Jenkins and James Gandolfini.
"Watching Jenkins, I felt like I was watching Peter Sellers, really, and I mean that. And then watching Gandolfini I felt like I was watching Marlon Brando.
Article continues below advertisement
"For an actor you have respect for other actors when they do something that is under the skin and unexpected and something I would have never expected. You really enjoy it, and this was one of those experiences."
Killing Them Softly, produced by Brad's production company Plan B, is set to open in movie theaters on September 21.
RELATED STORIES:
Brad Pitt & Angelina Jolie Take The Kids To Buy Toys In France