Brad Pitt: We Actually Really Truly Have No Wedding Date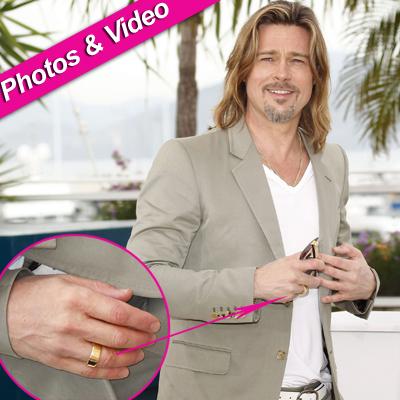 Brad Pitt, speaking at a Cannes press conference to promote his film Kill Them Softly Tuesday, said he and fiance Angelina Jolie have yet to set a date to tie the knot. (Interestingly, as he made his comments, Pitt was wearing a gold band on his right hand - not on his left one.)
"We truly have no date," the A-list stalwart said, rebutting rumors the mega-stars would be exchanging "I do's" this August.
Article continues below advertisement
Getting engaged "was something that made sense to us," Brad said. "Datewise, it's absolutely a rumor."
Brad, a vocal advocate of same-sex marriage, added he's "still hoping we'll figure out our marriage equality in the States before then."
Watch the video on RadarOnline.com
Kill Them Softly, a mob film also starring the genre's all stars -- James Gandolfini & Vincent Curatola (The Sopranos) and Ray Liotta (GoodFellas) -- hits theaters September 21.