Exclusive
A-Rod Played In Top Secret Poker Ring Where Drugs Were Used, Say Eyewitnesses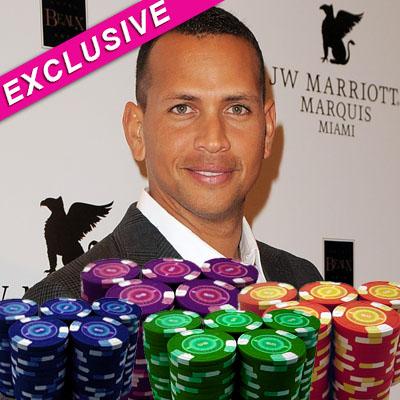 By Dylan Howard - Senior Executive Editor, Star magazine
New York Yankees star Alex Rodriguez played in an underground, illegal poker game where cocaine was openly used, and even organized his own high-stakes game, which ended with thugs threatening players.
A blockbuster Star investigation, published on RadarOnline.com, has uncovered the sordid charges being made by eyewitnesses who played in games with A-Rod, in the top-secret Texas Hold 'Em circuit.
Article continues below advertisement
Star first blew the lid off Tinseltown's clandestine gambling ring in June, revealing that A-list stars including Tobey Maguire, Ben Affleck, Leonardo DiCaprio and Matt Damon were deeply involved in the illegal games.
Now, in a dramatic turn, A-Rod is facing potential fallout from Major League Baseball, which previously warned him to stay out of illegal poker clubs and now has two investigators looking into his activities.
While the 36-year-old boyfriend of actress Cameron Diaz previously denied participating in the celebrity games, former players in the ring say otherwise and have indicated they're willing to provide testimony to MLB investigators.
The insiders tell Star exclusively that A-Rod gambled on at least two occasions, in games organized by stunning brunette Molly Bloom, who coordinated the sophisticated poker operation.
Article continues below advertisement
Poker pro Dan Bilzerian told Star how the slugger's first foray into the elite poker circle quickly turned into a fiasco.
That game was hosted at investor and record label owner Cody Leibel's $16.5 million Beverly Hills mansion, and cocaine was openly used.
Bilzerian revealed that a fight nearly broke out when Leibel refused to pay after losing more than a half million dollars.
Bilzerian told Star: "Molly ran one game at Cody's mansion. One player got all coked up. Everyone had to chase Cody down for the money, and he later paid me a sum and gave me a watch but stiffed me for $100,000."
Star has chosen not to disclose the name of the person using cocaine but can reveal that others at the game included Rick Salomon, and Kenny Tran, a professional poker player who won the 2008 World Series of Poker, according to Bilzerian.
With tempers at the table flaring, A-Rod tried to distance himself from the game, another insider told Star. "He just shook his head, not knowing what the hell happened,'' the whistle-blower revealed.
Article continues below advertisement
"He didn't want to deal with it at all. He was like, 'OK, whatever. It's your game.' I would estimate A-Rod lost, like, a few thousand dollars that night. After everything that happened, he paid-up and left."
Leibel did not return several requests for comment.
He is one of many being sued by the victims of Ponzi schemer Bradley Ruderman, a Beverly Hills financier who embezzled $25 million of his clients' money and used $5.2 million of it to pay off monster poker debts to a host of Molly's players, including Tobey Maguire and The Notebook director Nick Cassavetes.
NEW PHOTOS: Cameron Diaz & A-Rod Play Ball
The Las Vegas–based Bilzerian told Star: "Molly was supposed to vouch for anyone who stiffed, but she didn't cover the loss, and that's why in part she left Los Angeles to go to New York to run games.
"It was a rough initiation to high-stakes for poker for A-Rod," added the whistleblower, who spoke on condition of anonymity.
But Star can reveal the source was on Molly's payroll and had intimate knowledge of her business' inner workings, regularly working at her games, which were held at private homes and luxury venues.
Article continues below advertisement
Star also has learned that Molly, 33, claimed to have had a steamy affair with A-Rod.
Molly bragged to friends that she helped him put together his own hush-hush game in Miami in November 2009, just weeks after Leibel's fateful event.
Molly and dealer Manny Lopez flew to Florida to oversee the high-stakes game, Star has confirmed.
Lopez, who is one of those being sued by Ruderman's victims, refused to comment when contacted.
But the Florida gathering also ended in controversy when one "dubious" card shark lost tens of thousands of dollars and called in several thugs in a bid to intimidate rival players and avoid paying his debt.
"The thugs were big and aggressive and were sent to the game with one goal in mind: so their friend could attempt to escape paying what he owed," the insider told Star.
"A-Rod was freaked out by the company he was keeping and left the game with Molly."
Article continues below advertisement
The source said A-Rod later called some of those involved in the game to discuss what had happened but never again played in Molly's high-stakes games.
Complicating A-Rod's woes, it now appears that he has given misleading statements about his involvement in the ring.
On June 26, the Yankees third baseman sought to deny Star's report that he had secretly attended one of the games.
"Mr. Rodriguez has not participated in these poker games," insisted his spokesperson, Richard Rubenstein.