Celeb Illegal Poker Game: Cocaine & Hookers In A Backroom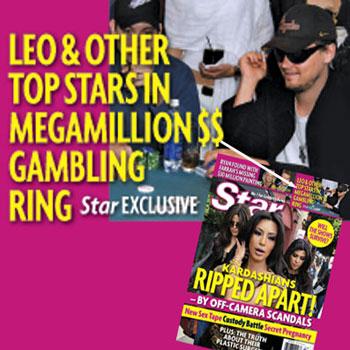 by RadarOnline.com Staff
Cards weren't the only things being cut during those celebrity high-stakes poker games -- so was cocaine; and oh yeah, there were also hookers involved.
In yet another bombshell revelation, resulting from a blockbuster investigation by Star magazine, a source says that drugs and prostitutes played a part in the top-secret games. The issue with Star magazine's investigation is on sale Friday.
Article continues below advertisement
"It was known to a handful of us that one player would keep two hookers down the hall of the hotel in another room," a source with knowledge of the games told Star. "He would disppear for 30-minutes at a time, leaving the main players in the game frustrated. In reality, he was getting to do blow (in a room with) two hookers."
As Star was first to report, via RadarOnline.com, several big name Hollywood celebrities, including Spider-Man star Toby Maguire, Leonardo DiCaprio, Matt Damon and Ben Affleck have been implicated as taking part in illegal, no-limit Texas Hold 'Em games which had a buy-in of $100,000 and would take place in private rooms at the posh Four Seasons Hotel in Beverly Hills and at the Viper Room on Sunset Blvd in Los Angeles. (The twice-weekly games ended in 2009).
Matt Damon & Ben Affleck: Boys Poker Night
Maguire, DiCaprio, Damon and Affleck did NOT know about the hookers and drugs, according to the source.
During the games -- as armed guards stood watch -- millions of dollars would change hands.
News of the secret games broke after Maguire was named in a lawsuit related to the games – a lawsuit uncovered by Star.
Maguire is among several people being sued by the former clients of Brad Ruderman, CEO of Ruderman Capital Records, a Beverly Hills hedge fund manager who bilked investors out of $25 million in a Ponzi scheme. Ruderman took part in the games – and often lost.