Exclusive
Trustee For Hollywood Poker Lawsuit Tried To Settle With Tobey Maguire & Others -- Before Filing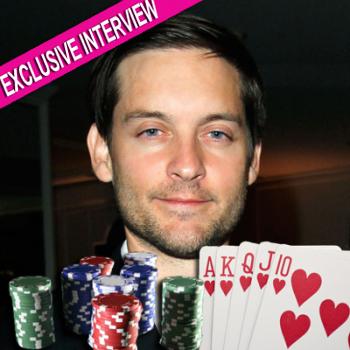 By Jen Heger - RadarOnline.com Legal Editor
The court-appointed trustee for the Hollywood celebrity poker lawsuits tried to privately settle with Tobey Maguire, and other parties, before filing, to avoid negative publicity, RadarOnline.com has exclusively learned.
However, all attempts to do so were unsuccessful and trustee Howard Ehrenberg was forced to file against the Spider-man star and other Hollywood bigwigs in an attempt to reimburse money that investors lost in an elaborate Ponzi scheme hatched by hedge fund manager Brad Ruderman.
Article continues below advertisement
Stars Arrive At Spider-Man Opening Night
"The investors that I represent lost about $50 million dollars," Ehrenberg told RadarOnline.com exclusively. "I contacted representatives for Mr. Maguire before I filed the lawsuit against him as a courtesy, because I didn't want to cause him embarrassment. My attempts to collect money from Mr. Maguire were unsuccessful and went unnoticed, and I was forced to file the lawsuit against him.
"I was appointed by the court as a trustee in this case, to get money for investors that lost their money. I'm not trying to garner any publicity for myself, I just want to get money that is owed to the investors in the Ruderman Capital Partners hedge fund." Ehrenberg is a very well respected attorney in Southern California.
As RadarOnline.com previously reported, Maguire, 35, won more than $300,000 from a Beverly Hills hedge fund manager who allegedly embezzled investor funds and orchestrated a Ponzi scheme in a desperate bid to pay off his monster debt to the star and others, and Ehrenberg is attempting to recoup that money for the investors.
Article continues below advertisement
Matt Damon & Ben Affleck: Boys Poker Night
An FBI investigation into Brad Ruderman, the CEO of Ruderman Capital Partners, uncovered how he lost $25 million of investor money in clandestine poker games held on a twice weekly basis in suites at the Four Seasons Hotel in Beverly Hills, and the Viper Room on Sunset Boulevard. Ruderman is currently in prison until 2018 in Texas for wire fraud and two counts of investment adviser fraud.
"Some of the investors did lose their life savings. This Ponzi scheme is very similar to the Bernie Madoff case, but in this matter, we are dealing with about $50 million dollars in losses. This scheme probably could have been much worse, if the stock market hadn't collapsed. The scheme ultimately unraveled when the stock market dropped," Ehrenberg reveals.
Ehrenberg says that he hopes to now settle the matter with Maguire out of court. "I hope to settle this matter out of court. I just filed the lawsuit against Mr. Maguire in April, so we are in the beginning stages of the case. However, if Mr. Maguire doesn't settle, I'm prepared to go to trial. I have about fifty investors that I'm trying to get their money back, and that is what I'm going to do. I'm prepared to go to trial, and will do so if necessary."