Exclusive
Tobey Maguire Was Paid Poker Winnings Through Personal Account Of Jailed Hedge Fund Manager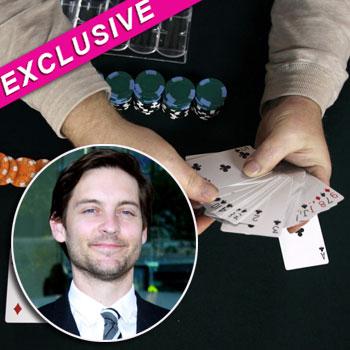 By Cliff Renfrew - RadarOnline.com Reporter
It was a game of star-studded high stakes poker involving millions of dollars funded by a bogus 'Yo-Yoing' bank account, RadarOnline.com Online.com can reveal.
RadarOnline.com's blockbuster story about an illegal card ring involving Spiderman's Tobey Maguire and other A-list Hollywood celebs truly was a web of deceit and lies according to court papers.
Maguire, 35, allegedly won more than $300,000 from Beverly Hills hedge fund manager Brad Ruderman.
Article continues below advertisement
Money-man Ruderman is accused of embezzling investor funds and orchestrating a Ponzi scheme in a desperate bid to pay off his monster debt to the star and other celeb players.
According to court documents Ruderman - the CEO of Ruderman Capital Partners - lost some $25 million of his investor's money in the illegal games which were not licensed by the State Of California or local government.
To pay Maguire and others their winnings Ruderman withdrew money from his personal account with City National Bank, however, he often did not have enough cash to pay the famous gamblers.
The games took place between the summer of 2006 and March 2009 in a variety of high-end Los Angeles locations ranging from the Beverly Hills Hotel to The Four Seasons.
According to records unearthed during an FBI probe into Ruderman's illegal gambling ring the balances held in his personal account as of the 15th of each month totaled $1,116,099 between April 15, 2006 and March 15, 2009.
Amazingly, over four different months the balances were in a deficit totaling $12,259 – the highest amount in any given month was $225,177 (12/15/07) while on (3/15/07) the balance was actually zero.
Article continues below advertisement
The court papers state that due to the lack of funds in Ruderman's personal account at City National Bank Account to pay losses from the poker games he transferred funds from his company Ruderman Capital Partners LLC to his personal account at or about the time when the poker losses occurred and or about the time when funds were transferred from Ruderman to Maguire.
The suit alleges that these transfers of funds from the Ruderman Capital Partners LLC to Ruderman personally were solely to pay for the transfers to Maguire and to pay transfers to other individuals based on Ruderman's losses at poker games.
The court papers contend that from 6/19/2007 until 5/13/2008 Tobey Maguire was paid $311,200 in winnings from taking part in the illegal poker matches - including one losing hand of $110,000 on July 30, 2007.
The plaintiff in the case Howard M Ehrenberg Chapter 7 Trustee is seeking for the winnings and court costs incurred with the case which was filed with the United States Bankruptcy Court Central District Of California Los Angeles Division on March 31, 2011.
Article continues below advertisement
Ruderman currently sits in a Texas jail until 2018, convicted on two counts of wire fraud and two counts of investment adviser fraud.
Lawyers for the clients whose funds he embezzled are filing a series of civil suits against those who won big in the illegal poker games, in the hope of recouping some of their lost savings.
Tinsel town A-listers Leonardo DiCaprio, Ben Affleck and Matt Damon also played in the no-limit Texas Hold 'em games which had a buy-in of $100,000, multiple members of the ring told Star magazine.
Others who were part of the secret society and are facing hefty lawsuits include billionaire businessman Alex Gores, The Notebook director Nick Cassavetes, Welcome Back, Kotter star Gabe Kaplan, Paris Hilton's infamous sex tape partner, Rick Salomon, record label owner Cody Leibel and Las Vegas nightlife entrepreneur and real-estate developer Andrew Sasson.
Although playing poker for money is illegal in California, it is rarely prosecuted, and there is no pending investigation of any of these celebrities.