PHOTOS: Spider-Man Reboot -- Secrets From The Set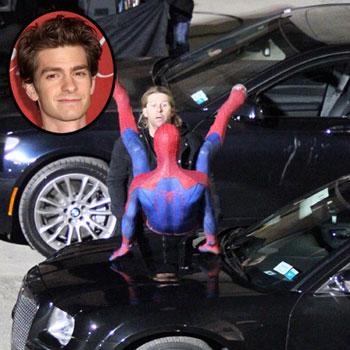 Looks like someone has been doing their 'Spidey-Pilates'.
A very flexible Andrew Garfield ( or is it a stunt double?) was snapped Thursday on the L.A. set of the reboot of Spider-Man, and RadarOnline.com has the amazing pics.
Garfield, 27, -- who recently gained critical acclaim for his break-out role in The Social Network -- stars as the webbed wonder along side Emma Stone, who plays his love interest Gwen Stacy.
Article continues below advertisement
The film -- directed by Marc Webb -- features Rhys Ifans, as well as Hollywood vets Martin Sheen and Sally Field. Look for Spider-Man's iconic creator Stan Lee to make a cameo.
In this reboot, Peter Parker is still in high school and the story focuses on him dealing with both average teen problems ( i.e. -- how to get the girl) as well as fighting super-villians in his spare time.
Garfield recently told Details Magazine he wanted to feel "stronger" in the role than he had ever felt before.
"I see it as a massive challenge in many ways to make it authentic," he said. "To make the character live and breathe in a new way.
"The audience already has a relationship with many different incarnations of the character. I do, as well".
Spider-Man is set to be released in 3D on July 3, 2012.
Fun fact: Don't let the British accent fool you; Andrew was born in L.A. but moved to England when he was 3-years-old.