Like Mother Like Daughter! Angelina Jolie Puts Vivienne In New Movie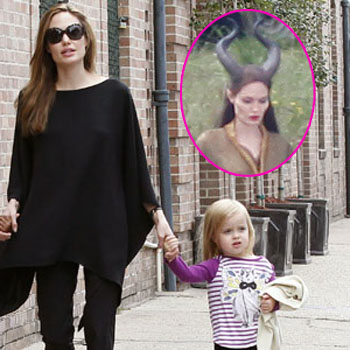 Article continues below advertisement
"Angelina thought it would be a fun experience for her and Vivienne to share, and Viv is a natural," a source told Vogue UK.
Vivienne's big sis Shiloh Jolie-Pitt appeared with their dad Brad Pitt on screen in The Curious Case of Benjamin Button and it seems like all the children have now caught the acting bug.
"The other kids are now nagging Angelina and Brad to land them roles."
Angelina's children have visited her on set and she spoke recently about her six kids loving that she's playing the villain in the movie.
"It's a really great script. I'm having a lot of fun. I've already got my horns fitted. My kids are very happy," Jolie said.
Angelina has been spotted on set showing off the dramatic outfit she'll wear in the film but discussed the most important part of the costume.
"We're still figuring out the look. We're experimenting with different things. But the horns are the horns - you can't deny them. You have to have horns."