Angelina Jolie Has Girls Day Out With Shiloh And Vivienne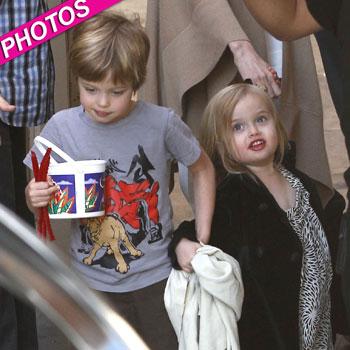 Angelina Jolie enjoyed a fun day out with two of her girls Saturday.
While three-year-old Vivienne Jolie-Pitt emulated her mother by playing dress up complete with bright red lipstick, Shiloh stayed true to her style in her usual tomboy get up.
The threesome went to see Disney film The Secret World of Arrietty at the El Capitan Theater in Hollywood.
Adorable little Viv had on a mismatched outfit of gold leggings, red shoes and a black and white dress covered up with a dark coat.
Article continues below advertisement
Meanwhile Shiloh, five, wore a T-shirt and shorts which went with her boyishly cropped hair.
Although she was being the dutiful big sister by holding Vivienne's hand, Shiloh also managed to juggle a bucket of candy and a handful of Red Vines licorice.
No news on whether Angie indulged in any of the sweet treats following TV doc Drew Pinsky called her "dangerously malnourished" last week, as previously reported by RadarOnline.com.