The Family Is First Mon! Brad Pitt Transforms Into A Rastafarian And Talks Priorities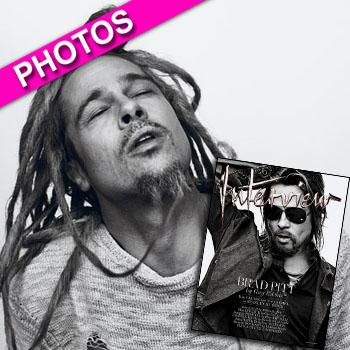 He's played everything from Greek god Achilles in Troy to a fanged vamp in Interview with a Vampire, but we've never seen Brad Pitt looking quite this Rastafarian!
The critically acclaimed actor and husband-to-be of Angelina Jolie shows off a dreaded new look and opens up about his family life to good pal and director Guy Ritchie in the new issue of Interview magazine – and RadarOnline.com has the photos and details.
Article continues below advertisement
The actor, who has become quite choosy with his movie roles since starting a family with Jolie, reveals his priorities in life and how he decides if he is going to sign on to a project.
"I want it to be worthy enough of a story to leave the family, you know? They're everything. The family is first... I also don't want to embarrass them."
Brad, whose next film Killing Them Softly, is slated to open at the end of November, explains that he is also selective about directors and other actors that he works with.
"But even more as I get older, it's about the company that I keep. That's the most important thing to me — that if I'm gonna spend however long it takes to make a movie, give up 14 hours a day for however many weeks or months, then it's very important for me to know that I'm working with people who I respect and enjoy and that we're going for something together. That's it, really."
RELATED STORIES:
Odd Couple Exes Overload! 10 More Of The Most Mismatched Celebrity Romances Of All Times