Brad Pitt's Mother Receives Death Threats For Gay Marriage, Obama Comments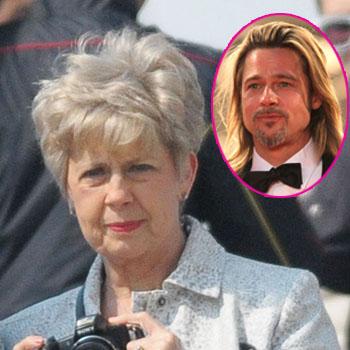 Brad Pitt's mother Jane has been targeted with death threats online after a letter she wrote last week to a Missouri newspaper, opposing same-sex marriage and President Barack Obama's re-election, was published to much fanfare.
A Twitter user nicknamed I Bleed Gaga wrote, "BRAD PITT'S MOM WROTE AN ANTI-GAY PRO-ROMNEY EDITORIAL. KILL THE B****," while another named Sandy Kownacka wrote, "Brad Pitt's mom, die."
Article continues below advertisement
Other comments:  "F*** you, brad pitt's mom, the gay community made your kid a star, you whacko," and, "Brad Pitt's mom is a dumb c***."
Contacted by the website WND, Jane said she was no longer commenting to the media on the incident.
As we previously reported, the Springfield News-Leader's July 3 edition featured a response letter written by the A-lister's mom in which she disagreed with a previous published letter saying presumed Republican presidential candidate Mitt Romney's Mormon beliefs should keep him from the Oval Office.
Jane -- calling herself "a Christian who differs with the Mormon religion" -- wrote in response, "Any Christian should spend much time in prayer before refusing to vote for a family man with high morals, business experience, who is against abortion, and shares Christian conviction concerning homosexuality just because he is a Mormon."
Jane wrote "any Christian who does not vote or writes in a name is casting a vote for Romney's opponent, Barack Hussein Obama -- a man who sat in Jeremiah Wright's church for years, did not hold a public ceremony to mark the National Day of Prayer, and is a liberal who supports the killing of unborn babies and same-sex marriage."