Hollywood Agent To Brad Pitt: 'Have You Ever Thought About Acting Classes?'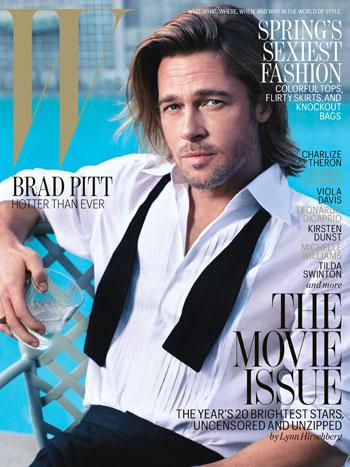 Even Brad Pitt was dissed when he started out!
The Hollywood hunk is featured on the cover of the February 2012 Best Performances Issue of W Magazine, where he dishes to Editor at Large Lynn Herschberg on everything from the advice his agent gave him (take acting classes!!), to what roles he would like to redo.
Discussing the first role he auditioned for, Brad reveals that his agent sent him out for The Accused with Jodie Foster, and that his performance was less than lackluster.
Article continues below advertisement
"I called up afterward and asked, 'How did I do?' There were three seconds of silence and then: 'Have you ever thought about acting classes?'"
And, when asked if there were any characters that he played in his career that he would like to do over, the Moneyball actor didn't hold back!
"Um.... the first 12 years of my career, I would think," he responded, later on retracting his response and replacing it with the "first 11 years."