Jennifer Aniston Was Advised To Get 'Sperm Donation' From Brad Pitt Post Split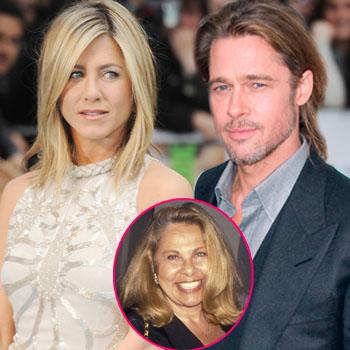 In one of the most bizarre stories out of Hollywood, Jennifer Aniston was apparently advised to get a donation of sperm from Brad Pitt after they split in 2005.
Hollywood agent Sue Mengers was the one to give the peculiar advice to the former Friends star, New York Times columnist Maureen Dowd has claimed.
The legendary agent passed away in October at the age of 78 with Dowd revealing the story as some kind of honor to Mengers who was known for her brash nature.
Article continues below advertisement
"She was a yenta who loved fixing people up, in work and in love," Dowd recalled, in an item on the New York Post. "If a match struck, she would urge the woman, 'We have to close the deal.'
"After Brad Pitt left Jennifer Aniston for Angelina Jolie, Mengers told me that she advised her beloved Jen to ask Brad for some of his sperm."
Mengers was apparently close to the actress, who has now found love again with actor-director Justin Theroux, and threw parties attended by the likes of Tina Fey, Jack Nicholson and Aaron Sorkin.
"The first woman to become the man among Hollywood superagents was full of exhilarating vulgarity," Dowd wrote. "Mengers presided with a devilish wit and an angelic smile, a dirty, flirty girl with devastating timing."
Although Mengers advised Jen to have a fall back plan with a donation from Pitt, the Horrible Bosses star recently claimed that she is not desperate to become a mother.
"If it's meant to be, it's meant to be," the 42-year-old told Elle magazine in October. "I'm at peace with whatever the plan is."
Article continues below advertisement
Jennifer Aniston Named Sexiest Woman Of All Time, Beats Out Angelina Jolie