Exclusive
Brad Pitt Has Got Great Ball Skills, Says His Moneyball Co-Star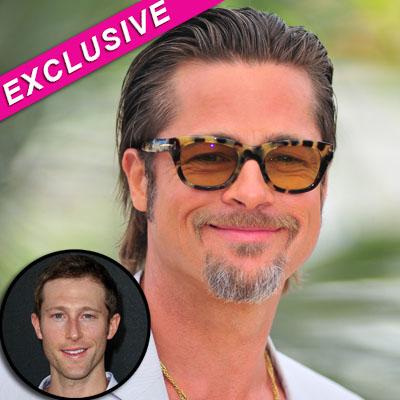 by RadarOnline.com Staff
Is there anything Brad Pitt can't do?
Along with his multi-million dollar film career, six children, a beautiful partner and an inane ability of putting his foot in his mouth during magazine interviews, Brad Pitt can also play baseball!
Pitt's Moneyball costar and former San Francisco Giants player Casey Bond played America's sport with the star while filming the baseball biopic in Oakland, and exclusively revealed the 47-year-old's secret talent to RadarOnline.com at the Annual Bullets 4 Peace Reloading Life event on Wednesday.
Article continues below advertisement
"Me and Brad went out and swung the bat and hit some balls, he's got some skills," Bond told RadarOnline.com in an exclusive interview.
"It was amazing working with Brad, he is such a great mentor and gave great advice on set, I worked on the film for two months so I was there the majority of the time so we worked together every day," said Bond, who plays pitcher Chad Bradford in the film, and had the opportunity to meet Angelina Jolie and the whole Brangie Bunch of six kids when they visited the set.
"Angelina and the kids were in Oakland and came out on the field and played a little baseball with us," Bond told RadarOnline.com, who got to hang out with The Tourist star again in Toronto after the Toronto world premiere. "They were wonderful, we went out for a nice dinner afterwards and we had a great time."
"The kids were on set in Oakland and they were very cute," he went on to say, adding: "The twins are really adorable, and obviously they have the Jolie-Pitt genes.
Article continues below advertisement
"I'm not gonna pick the cutest...but they were pretty great. They were pretty well-behaved but when you have a bunch of six they are going to horse around, that's what fun about children."
When asked if he thought if the couple were going to get married soon, the MLB player-turned-actor replied cautiously: "I think they are going to get married when everyone can get married, that's what they keep saying. They'll do whatever they want to do, that's their prerogative.
"I really enjoyed both of them and they are a great couple together, so I respect their decision."
As RadarOnline.com previously reported, Brad addressed the subject of his rumored nuptials on Thursday's Ellen DeGeneres Show.
Jennifer Aniston & Justin Theroux Step Out In NYC
"I've said that we would not be getting married until everyone in this county had the right to get married, Pitt told host Ellen DeGeneres. "We live in this great country that is about freedom. It is defined by our freedom and equality and yet we allow this discrimination to go on everyday and that's not what we're about -- that's not what makes us great.