Tragedy Of The 600 Lb Single Mom With An Insatiable Appetite Who Ate Herself To Death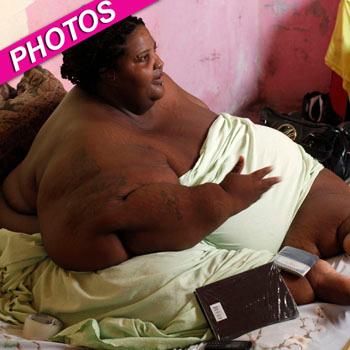 A 625-pound woman who couldn't control her insatiable appetite virtually dug her own grave with her teeth by gorging on her favorite food.
Horrified TLC viewers tuned in Wednesday night to watch 600lb Mom: Race Against Time, a show documenting the last 12 months of Dominique Lanoise, a Miami-based single mother-of-six.
The tragic mom died in March because she couldn't stop her deadly addiction to food, which left her bed bound and too fat to even wear clothes.
Article continues below advertisement
At one point her doctor is seen pleading with the 41-year-old, telling her: "We got to get you out of this bed. This bed is your coffin."
Lanoise first made headlines in 2010 after she was stranded in Haiti in the months following the devastating earthquake. She initially flew from her home in Miami to Port-au-Prince to visit her relatives but couldn't return because no commercial airline would carry her as she weighed nearly 500 pounds. She was finally reunited with her children when The Dominican Air Force agreed to fly her back in the cargo holding to the U.S.
Within a year her weight soared to more than 600 pounds.
Lanoise says she wasn't always that big. "I used to be skinny but after I had my first baby I got so big," she told Asiannet.com in 2011.
Lanoise wanted to undergo bariatric surgery to shrink her stomach but doctors wouldn't operate until she lost some weight. But, despite losing 120 pounds following a strict diet, the mom signed her own death warrant by gorging on all her favorite Haitian foods and by October 2011 had piled on a staggering extra 222 pounds.
Article continues below advertisement
Speaking in broken English, she told TLC: "I don't want to lie. I'm cheat…The food Dr. Hernandez give it to me. He's give me the pill, give me the food, I'm drinking it. But sometimes I feel hungry. I feel thirsty. I feel hungry."
At one point, upon hearing that her mom had put on 120 pounds in three-and-a-half months once again delaying any chance of life-saving weight loss surgery, one of Lanoise's daughters says: "I was shocked. To see that all my hard work went to waste. It was…like what's the point to keep working hard? I was just…really angry with her."