Too Fat To Fly? Obese Woman Dies After 3 Airlines Refuse To Take Her Home To NY To See Doctors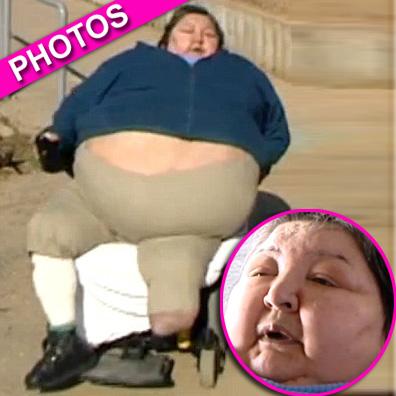 A 425-pound New York woman named Vilma Soltesz died from kidney failure after three separate airlines, citing weight-related complications, refused to let her board flights back to the Big Apple, where she was "to come back home to get her treatment," according to her husband, Janos.
Vilma, a 56-year-old resident of the Bronx, used a wheelchair to get around because she only had one leg, and was plagued by a combination of kidney disease and diabetes, Janos told the NY Post.
Article continues below advertisement
Her travel troubles began when she and Janos, whom she had been married to for 33 years - both natives of Hungary - went to their vacation home September 17 on flights from Delta and KLM airlines, the Post reported.
Their travel agent bought Vilma two tickets to ensure she'd have proper space. They were slated to return October 15 as Vilma had a meeting with her physicians scheduled, but KLM did not have the proper seatbelt extension to secure her in, her husband said, and they had them de-board the plane.
KLM spokeswoman Ellen van Ginkel explained the set of circumstances that had them unable to take Vilma back home.
"It appeared on the passenger's return that it was not physically possible for her to board the aircraft, despite every effort made by KLM to this end," van Ginkel said. "A seat or belt extender did not offer a solution, either."
After a five-hour wait at the airport, the couple was directed to Prague for a Delta flight, but the airline ran into equipment issues that prevented her from boarding, as a wheelchair and elevator earmarked for the task could not withstand her weight.
Article continues below advertisement
Delta spokesman Russel Cason said that "despite a determined good-faith effort by Delta in Prague, we were also physically unable to board her on our aircraft."
Vilma and Janos tried a third time to board an October 22 Lufthansa flight from Frankfurt to New York, but again, issues arouse when the plane crew and local fire officials could not fit Vilma in a three-seat gap after 30 minutes of trying.
Lufthansa spokesman Nils Haupt said, "We had 140 passengers on board, and they had connections and needed to travel. The question was never the seat belt. The question was the mobility of the passenger."
Janos, who said neither he nor his late wife trusted medical officials in Hungary, found his wife dead two days later at their vacation home.
"I'm lonely now. Wherever I am going, I am just going alone. I am missing her a lot," he told the newspaper. "There were only two women in my life - my mother, whom I lived with for 23 years, and Vilma, whom I lived with for 33 years."