Too Fat To Kill? Half Ton Woman Wrapped Up In Murder Mystery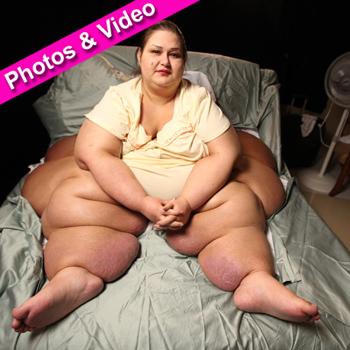 By Debbie Emery - RadarOnline.com Reporter
A woman weighing in at a massive half-ton who was at the center of a shocking murder mystery has become the focus of TLC's latest show, and RadarOnline.com has a preview of the investigation that revealed some hefty secrets.
Mayra Rosales, who tops the scales at 1,100 pounds and is bedridden from obesity, claimed she crushed and killed her two-year-old nephew, Eliseo Jr., after he died while she was babysitting in March 2008.
Article continues below advertisement
However, despite her confession, investigators following the case in the Texas border town that is riddled with drugs and human trafficking soon discovered that Rosales, who can't even sit normally in a chair or roll over on her own because she is so huge, could not have physically killed the boy, reveals TLC's Half-Ton Killer?.
The case rocked the Texas town and became a global controversy as people marveled how one of the world's heaviest women could commit murder.
"Could they even give her enough poison to execute her?" marveled one investigator.
Doctors soon revealed that Eliseo was killed by a blow to the head, not crushed like his 31-year-old aunt claimed, as further digging into Mayra and her family unearthed disturbing secrets and a true story of law, love, and lies too bizarre to make up.
Mayra, who required 10 men and an extra-large ambulance to even reach the hospital, and her husband Bernie had recently moved in with sister Jaime, who had undertaken a full-time role caring for her, but often left the obese woman home alone baby-sitting her four children.
Article continues below advertisement
"I should be punished, I did wrong," lamented Mayra on the expose, as she lay in her bed deathly ill from pneumonia. "Suicide is not an option."
While she had given up hope, her attorney, Sergio Valdez, fought for justice when he realized that the boy's injuries appeared to be no accident.
Discover the unexpected conclusion to the heavy-weight case when Half-Ton Killer? airs Wednesday, October 10 at 9 p.m. on TLC.