World's Biggest Woman Battling To Be Fattest Bride!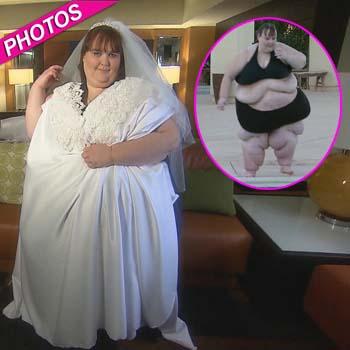 It's important to have goals in life…
Weighing in at a shocking 520 pounds, the world's biggest woman Susanne Eman is not only desperately trying to get married, but she's also fighting to be the world's biggest bride.
The mom of two sons is hoping her chef boyfriend Parker Clark, will propose to her soon and she's not wasting anytime getting underway with the preparations for an event that isn't even in the works yet.
Article continues below advertisement
For the last year, the Arizona native has been intentionally over eating so she can take the top spot for the heaviest woman. Her goal is to get up to 1600 pounds, but sadly she's not even half that yet. She thought she was 800 pounds after shoveling food like cakes, pasta, pizza, chips, unhealthy snacks and fast food in her face to help reach her ideal weight. However, after recently being weighed on special obesity scales, Susanne discovered her weight is still 520 pounds.
Inside Edition has been talking to Susanne about her big day and had a special wedding dress designer help the 33-year-old create her dream frock. Dressmaker Judee Goff of Paradise Fabrics in Phoenix, AZ, designed the world's largest gown which is so big that it takes three people to carry it and 30 minutes to lace up the back. And the size of the dress is--are you ready? 9XL! Goff had to use 45 feet of chiffon and lace to make the frock.
Article continues below advertisement
"We've never made a dress like this before," the designer said. "There are no dress patterns this large."
And the bride-to-be-- well maybe -- seems to be overjoyed by the creation. "It's amazing to have something specially designed for me. Normally I just buy my clothes from plus size stores online. I talked over designs with the dressmaker and she came up with a dress I've always dreamed of. I can't wait for Parker to buy me a ring so we can start planning a wedding date, and things like the flowers, venue, and the cake," she gushed.
While the two are not engaged yet, the future hubby seems to be on board with everything.
"When I tried the dress on, it was amazing," Susanne said. "I felt like a bride. Parker hasn't seen me in it, but he's seen photos and says I look beautiful. He hasn't formally proposed with a ring yet, as he wants to surprise me. But we've agreed we're getting married, and he's just waiting for the right moment."
Article continues below advertisement
The pair met online last year and are now inseparable. After sharing emails and phone calls, the couple began dating, and Parker moved into Susanne's apartment just a few months later. Since he's looking for work and she makes an income by posting photographs for male fans online, it's not certain when he'll pop the question, but he is looking forward to their wedding.
"Susanne looked beautiful in her dress," he said. "I love big women, but I do worry about her health and I try to make sure she eats some salad and does her exercises. I want her to be around for a long time after our wedding."