World's Fattest Man Told 'Lose Weight Or Die' After Hitting The Scales At 812 Pounds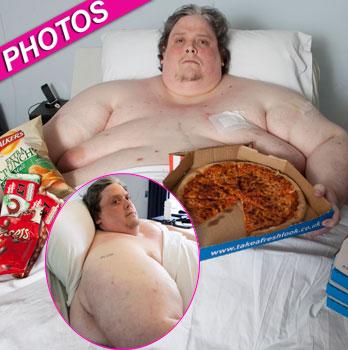 By Debbie Emery - RadarOnline.com Reporter
Most people strive to be the biggest and best at what they do, but winning the coveted title of 'World's Fattest Man' wasn't something to celebrate for Keith Martin, who has since pledged to lose weight.
"Finding out that I'm the fattest man in the world has been the wake-up call I needed," said the 42-year-old from London, England, who weighs in at a whopping 812 pounds.
Article continues below advertisement
"I don't blame anyone other than myself for this horrible situation. Doctors have told me I won't reach 50 unless I do something drastic," 5'9" Martin tragically revealed. "I need to lose half my weight before they'll give me a gastric band."
After becoming bed-bound by his massive girth and two giant hernias, he was told by doctors in January to lose weight or risk death. "I am trying to heed their advice, but nothing has hit home like the headlines around the world talking about my weight. It has been a horrible week, but it's made me even more determined."
Keith was not always this size, and underneath the rolls of flab, huge man boobs and biceps the size of a sea lion, a normal-sized man is hiding.
"I'd love to be as slim as I was in my youth," said Martin, who weighed 210 pounds when he was 20. "But what I really want is simply to sit comfortably in a normal-sized chair. I am determined to get this weight off."
The mammoth Brit's weight woes are a sharp contrast to 33-year-old Susanne Eman of Casa Grande, Arizona, who as RadarOnline.com previously reported dreams of one day stealing Keith's title from him.
Article continues below advertisement
"The more weight I put on the better I felt, and the more confidence I seemed to gain," said Susanne, who currently weighs 756 pounds and is hoping her chef fiancé will fatten her up even more. "I began to change the way I did things according to my weight."
While she strives to consume as many calories as possible, Martin has now cut down from his former 20,000 calories a day diet to just four slices of bread and a ready meal, with the occasional can of his favorite mini-hot dogs or Spam.
"I used to eat four Big Macs plus fries and an apple turnover for lunch. Now, I can honestly say I don't even miss food. I have to do this for myself and my family."
His current intake is a dramatic drop from the enormous shopping list costing $55 a day, which consisted of a package of bacon, six sausages, six eggs with a mound of toast and beans for breakfast. Lunch was more of the same plus sandwiches, and a dinner of two large pizzas, three kebabs or Chinese.
Article continues below advertisement
Also on the monster menu were packets of cookies and sweets, cakes and family-size chocolate bars. As a night cap he would munch on four sandwiches with ham, Spam or bacon, washed down with two liters of cola, plus six pints of coffee with sugar.
"I was a mess by the time I was 25. I gave up alcohol and cigarettes, but I couldn't quit food," said Martin, who hasn't left the house since September 11, 2001, asides from emergency hospital trips. "'The last time I was able to sit in a chair was seven years ago - and that was a two-seater."